My oldest son saved up all of the money that he had earned throughout the school year for good results, and at the end of the year he got to buy whatever he wanted with his hard earned savings. I took him to Target and I clearly expected him to bring home a big remote control car or something similar, but my son surprised me big time. He picked out a guitar!
In my search for an affordable way to teach my son how to play his new love – the guitar – I discovered Alfred's
Kid's Guitar Course Complete
, and I am so glad that I did.
At first I was skeptical about whether I could actually pull off teaching my son (and myself) how to play
guitar
from a book, but now a month later I have every confidence that we will both master the task completely with time and effort put into our guitar playing.
The
Kid's Guitar Course Complete
comes with all the necessary tools for learning how to play guitar, and it really does live up to its name. We started out slowly by following the book's kid friendly instructions, learning about notes, beats, chords, how to read chords and more, and then all of a sudden we were playing small melodies such as
Rain Comes Down
,
Love Somebody
and
Ode to Joy
.
I have been very impressed with how fast my seven-year-old son learned the basic chords, and how well he has memorized them. From one day to another he went from playing random strings at a time to switching between chords. The feeling of being able to play a song on the guitar is priceless (even for a mom), and watching my baby rocking it out on the table to our tunes is even better.
Kid's Guitar Course Complete includes:
An easy-to-use instruction book
2 CDs
PC Features on the CD
A DVD
The Instruction Book
The Kid's Guitar Course Complete book is written in an easy-to-understand language, it provides images to help understanding, and the step-by-step guide works perfect in combination with the cds and the dvd. Each section is numbered, so that you can easily find the particular correlating section on the cds, especially when you are using the computer program.
The CDs
The first thing we did was use the cd to tune the guitar, which is an essential feature, since I had no clue as to how the different strings were supposed to sound.
The cds can also be used on the computer, and I simply love this feature. It was easy to install, and we quickly got the program up and running on the laptop. The computer feature lets you play along as the song is played on the screen, and you can turn the speed of the song up and down making it easy to adjust it to your level of expertise.
The DVD
The DVD is a great addition to this book, as it helps kids (and grown ups) get a better understanding of how to hold the guitar as well as how the music is supposed to sound.
Alfred Music Publishing:
Alfred Music Publishing is the world's largest educational music publishe

r
. The company produces teaching materials for many different levels, and their book selection includes a large number of different instruments instructions.
The Best Gifts for Tween Boys: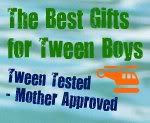 Alfred's Kid's Guitar Course Complete is part of the Best Gifts for Tween Boys review and giveaway series, because it is a great way to help your tween get involved in music at an affordable price. The course can be used with the help of a parent from ages 5 and up, but the instructions are so simple that tweens can teach themselves how to play guitar with the use of the Kid's Guitar Course Complete.
Buy It
You can buy the
Kid's Guitar Course Complete
directly from
Albert's Publishing
, or you can find it at online retailers such as
Amazon.com
or at local retail stores.
This giveaway will end September 27th at 10 p.m. EST.
This giveaway is open to US residents. I will chose the winner via Random.org, and the winner will be notified by e-mail. Make sure to

leave your email

, or have your contact available on your blogger site. The winner will have 48 hours to respond, and if there is no response another winner will be chosen.
Disclaimer: I received a copy of the Kids Guitar Course Complete from Alfred Music Publishing for the purpose of this review. I received no other compensation, and the opinions expressed in this review are mine and mine alone.