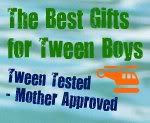 Finding gifts for tween boys can be difficult, but finding gifts for tween boys that do not include the latest gadgets, video games, video game consoles etc. can be even harder.
The Best Gifts for Tween Boys Review & Giveaway series
will consist of some of the best products to help your tween boy explore and be engaged in the world around him. The gifts will help your tween boy dig into his imagination, and they will help him encourage creativity and learning.
You can find reviews of the Best Gifts for Tween boys here at Frugality Is Free, and there will be some great giveaways as well.