Combine speed, science and a few kitchen staples with SmartLab, and you get the Blast Off Rocket Racer. The Blast Off Rocket Racer is fueled by vinegar and baking soda, and it is an educational toy that will amaze both young and old, as it takes off with a bang and it is the perfect gift for tween boys.
My boys have been spending many of their last evenings of summer vacation by shooting off their Blast Off Rocket Racer, and seeing it blast off down the street just never seems to get dull.
Not only do kids have to build the Blast Off Rocket Racer themselves, but the transparent body of the rocket racer makes it possible to see the chemical reaction between baking soda and vinegar up close.

My soon-to-be tween son has been spending a lot of time in the kitchen this summer with an old version of a science experiment book, a couple of measuring devices and whatever else he could get his hands on. The simple mix and awesome chemical reaction between the baking soda and the vinegar added more fuel to his science interest, and he has now embarked on a entirely new science venture. The Blast Off Rocket Racer is sure to spark the scientist in anyone, child or grown up, well even a mom who has always stayed far away from science classes if possible.
The Blast Off Rocket Racer comes with a great instructions manual, that guides the child (and parent) through the set up process, and it also encourages keeping a report of the the blast off details.
My boys and I were a little too rough on the rocket racer the first time we tried it, so we ended up breaking an axle. Fortunately the people at SmartLab were quick to send us a replacement, and the second time around we took our time and made sure to find a spacious space to shoot off the Blast Off Rocket Racer.
I made numerous attempts at shooting a video of the racer, but it was simply to fast for my mediocre videotaping skills. Instead I hereby present the Blast Off Rocket Racer blast off in photos.
Adding the baking soda, and cleaning of the stomp pad.
The Blast Off Rocket Car filled with vinegar.
Getting ready for take off: Ready, set…
Go!!!
The Blast Off Rocket Racer Kit includes:
• Snap-together rocket car
• 4 wheels
• Fin
• Stomp-pad launcher with safety shield
• Cleaning tool
• 16-page fully illustrated booklet/lab journal
SmartLab
SmartLab is a young company that seems to produce one fun and intelligent educational toy after the other. Their Award winning toys are fun for kids of all ages, and it is great to see a company that makes smart toys for smart kids.You can find their huge list of educational kits and toys at SmartLab.com.
Best Gift for Tween Boys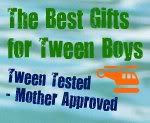 The Blast Off Rocket Racer is recommended from ages 8+, and it is the perfect gift for tween boys, because this educational toy brings science and fun together in a way that is sure to impress any tween boy. If you are looking for a toy that keeps your tween boys off the couch and interested in learning about science, the Blast Off Rocket Racer is the perfect gift for any occasion.
Buy It
You can find the Blast Off Rocket Racer from SmartLab at Barnes & Noble and at Borders stores, or you can buy
The Car Design Studio
from ArtLab on
amazon.com.
SmartLab
is generously giving away a Blast Off Rocket Racer to one of Frugality Is Free's readers.
Visit SmartLab.com and tell me what item from their SmartLab/Art Lab collections (other than the one featured in this post) you would have loved to own as a child and why.
– 1 entry (1 comment)
This giveaway will end September 20th at 10 p.m. EST.
This giveaway is open to US residents. I will chose the winner via Random.org, and the winner will be notified by e-mail. Make sure to leave your email, or have your contact available on your blogger site. The winner will have 48 hours to respond, and if there is no response another winner will be chosen.
*I received a sample of the Blast Off Rocket Racer from SmartLab for the purpose of this review. I received no other compensation, and the opinions expressed in this review are mine and mine alone.