In my search for the best hair brush I discovered BrushLove.com, and BrushLove.com is sponsoring the first giveaway in the Mom's Wish List Review and Giveaway series. The Thermal Round Hair Brush from BrushLab at Brushlove.com is a great help for any mom, who needs to add volume, curl or straighten her hair.

Since school has started, I have been on the go constantly walking between 4 and 8 miles every day picking up and dropping off kids at school. This means I need to be comfortable, and in the current South Florida heat and humidity the best thing that I can do is to have my hair in a pony tail and a hat on my head, whenever I am out walking.
When I get to my youngest son's school I am surrounded by college students, whose hair is perfect, and it makes me want to look good too. The first thing we do, when we reach campus is to go to the restroom at the library so we can all freshen up after the hot walk. I whip out the best hair brush, the Thermal Round Hair Brush from BrushLab, and in a matter of seconds my flattened hat hair and squashed up pony tail is transformed into blond locks with volume and life.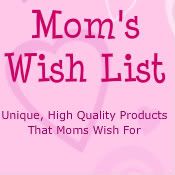 Mom's Wish List
Okay, I'll admit it – at my prime age of 29, I no longer look like a college student, and with a couple of kids in tow, I'm pretty sure my age is being given away at first glance. Still, it feels good to look good, and when I am surrounded by beautiful hair dos, tight abs and slender legs, I'm excited to at least be able to look as if I spent a little time on my hair before I went out on a four mile walk in 96 degrees. I'm so happy that BrushLove.com com came to my rescue, when they picked out the BrushLab Thermal Round Hair Brush, and this brush should definitely be on any mom's wishlist.
Great Features
• 100% heat-resistant nylon bristles.
• Thermal ceramic coated barrel that helps prevent overheating when drying.
• The signature comfort cozi™ grip is designed to massage and prevent slip ups.
• Faster blow dry.
One of my favorite features of the Thermal Round Hair Brush from Brush Lab is definitely the cozi™ grip, it really does massage, and it makes my grip on the brush much firmer. This brush is has definitely earned a feature as the best hair brush, and I love what it can do for a mom on the go.
BrushLove.com
BrushLove.com is a company committed to provide its customers with high quality products, and it offers some of the finest salon-professional hair, cosmetic and spa accessories from around the world.
Buy It
You can find the The Thermal Round Hair Brush from BrushLab at
Brushlove.com
. BrushLove.com is also offering an exclusive discount to Frugality Is Free's readers.
Win It: Giveaway Closed
BrushLove.com
is generously giving away The Thermal Round Hair Brush from BrushLab to one of Frugality Is Free's readers. Find the winner at the
Giveaway Winners
tab.
Visit BrushLove.com and tell me what item from their awesome collection you would love to own and why.
– 1 entry (1 comment)
(Mandatory entry must be done in order for any bonus entries to count)
This giveaway will end September 22nd at 10 p.m. EST.
This giveaway is open to US residents. I will chose the winner via Random.org, and the winner will be notified by e-mail. Make sure to leave your email, or have your contact available on your blogger site. The winner will have 48 hours to respond, and if there is no response another winner will be chosen.
*I received a sample of the BrushLab Thermal Round Hair Brush from BrushLove.com for the purpose of this review. I received no other compensation, and the opinions expressed in this review are mine and mine alone.