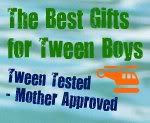 Finding the right gift for a tween boy can be difficult, but when I discovered the Legends of Magic set from HearthSong, I knew that I had found the perfect gift for my son.
My oldest son has been all about magic this summer, he even took out a huge stack of magic books from the library, and one of them included make-it-yourself projects. This was a great book, and we managed to make both a magic wand and a magician hat. After a few days the wand began to suffer from wear, and my son began dreaming of a wand that would not break. He used pencils, sticks found on our walks, but none of them really did the trick.
When the Legends of Magic set arrived from HearthSong, it was a huge surprise for my soon-to-be tween son, and he unwrapped it with nervous and excited hands. When he discovered the Legends of Magic set, I heard a screechy scream so high-pitched that I had to cover my ears. For a moment there I feared that the photo on the box would not live up to the expectations that obviously came with the scream.
As we we unwrapped the Legends of Magic set my fears were put to shame, since every magic accessory that we uncovered seemed to surpass the excitement of the previous one.
The Legends of Magic set Includes:
A table that converts into a working illusion box to perform amazing tricks
A magic wand
Production Tubes
Phantom Deck
Chinese Sticks
Puzzle Box
Metal Linking Rings
Cups and balls
Multiplying ball
The amazing money making machine
The Drawer Box, and more
An 82-page "Official Illustrated Instruction Manual" that teaches you how to perform 250 amazing tricks
A 90 minute instructional DVD with footage of Houdini, Blackstone, Flosso and other great magicians
Our experience:
My house has turned into a magician's castle, and there are magic events happening all day long. My son is so excited about the Legends of Magic set that he actually brings some of the props to sleep, if we leave the house to go to the store, the library or the park he will bring a few items as well, and it seems to be a great way for him to break the ice, when he meets new kids. His otherwise very shy demeanor seems to seem to have taken a back seat to performing his magic tricks, and I actually think the Legends of Magic set will help him overcome some of his shyness, which will be helpful at school as well.
It took a little while, and the instructions were certainly necessary, but my son is now beginning to get his tricks down, and I really think that it is a great way for him to learn to follow instructions and see the results.
I love the illusion box, but when I first had to set it up, I was a bit overwhelmed by the instructions. It took one attempt, and then I got it. At first I could not understand, why the box had to be so complicated to construct, but once I realized how it was put together, everything made sense. I can now set up the magic illusion box in a few minutes, and my son is becoming quite skilled at it as well.
The 90 minute dvd has my children glued to the screen, and it always amazes me how the tricks that I grew up watching on television also have my children captivated. The 90 minute dvd features tricks and shows from all the big magicians including Houdini and Blackstone, and it is great at showing the kids how the tricks should be performed.


My son's favorite tricks to do are the cups and balls and the metal linking rings, and the magic box sure is a hit as well. My son says that the magic wand is just like the one he wished for, and when asked which part of the Legends of Magic set is his favorite, he always exclaims EVERYTHING!

Final Thoughts:
The Legends of Magic set is very comprehensive, and to be able to take full advantage of this kit, it is essential that you explore the very detailed instruction manual. If your child takes the time to read about the tricks, the Legends of Magic set can really help your child understand the power of illusion. It is a great way to learn about the world around us, and about how it changes depending on how we perceive it.
I am amazed at how the Legends of Magic set seems to have given my oldest son the confidence he needed in order to break through his shy exterior to perform in front of other people. It makes me wonder whether the Legends of Magic set will actually open up an entirely new world to my son, and I am so excited that he is finally opening up to the world around him.
The Legends of Magic set is recommended from age 7 and up, and I agree that this will be the perfect age group. Unless your child is a great reader, he or she will probably need a little help with reading the detailed instructions.
HearthSong was founded in 1983 by Barbara Kane, and in the beginning the catalog was sent out in black and white with pencil drawings of the wholesome books and toys that Kane personally selected. Since then HearthSong has expanded into a nationally known company for unique, entertaining and high-quality toys, and you can now buy toys from HearthSong both through the catalog and online.
The company develops 25 percent of the toys itself, and the rest are carefully selected with the company's focus on family and in mind.
HearthSong offers a satisfaction guarantee, and if you are not 100 percent satisfied with your product you can return it for an exchange or a full refund.
If you would like to browse HearthSong's great collection of quality toys, you can request a toy catalog, which will arrive in 2 – 3 weeks.
The Best Gifts for Boys Series:
The Legends of Magic set from HearthSong is getting the first spot in the Best Gifts for Tween Boys series, because it keeps children engaged in the world around them, it teaches about illusion and it is a great alternative to video games and television.
The
Buy It: You can buy the Legends of Magic set at HearthSong, either online or through their toy catalog.
Win It:
HearthSong has generously offered to give away one Legends of Magic set to one of Frugality Is Free's readers.
How To Enter:

Giveaway Closed

– Winner will be announced 9/10
Mandatory Entry:
Visit HearthSong and tell me what product from their collection you would like to have (other than the one featured in this post), and who you would give it to. (1 Comment – 1 Entry)
(The mandatory entry must be completed in order for any bonus entries to count)


Bonus Entries:
Follow Frugality Is Free via Google Friend Connect (1 comment – 1 entry)

Follow HearthSong Toys on Facebook (1 comment – 1 entry)

Sign up for HearthSong email list (1 comment – 1 entry)
Follow FrugalMom/Frugality Is Free on Twitter (1 comment – 1 entry)
Follow FrugalMom/Frugality Is Free on Facebook (1 comment – 1 entry

Blog about this giveaway – leave link (4 comments – 4 entries)

Enter any other current giveaway at Frugality Is Free, and leave a comment to let me know (1 comment per giveaway – 1 entry per giveaway entered)

Sign up for Frugality Is Free emails. (In the sidebar) (2 comments – 2 entries)

Tweet about this giveaway (can be done once a day – leave tweet link) (1 comment – 1 entry per day )

Tweet:Win The Legends of Magic Set from HearthSong ($50 ARV) @ Frugality Is Free http://bit.ly/9x5RtA
This giveaway will end Thursday September 9th at 10 p.m. EST
.
The giveaway is open to U.S. residents.

I will chose the winner via Random.org, and the winner will be notified by e-mail. Make sure to

leave your email

, gather name, or have your contact available on your blogger site. The winner will have 48 hours to respond, and if there is no response another winner will be chosen.
Disclaimer: I received a copy of the Legends of Magic for the purpose of this review and giveaway, but I was not otherwise compensated. The opinions in this review are mine and mine alone.
**Images are Copyright Frugality Is Free and HearthSong.