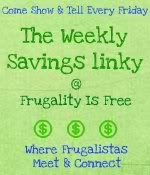 There is a lot on the program this evening here at Frugality Is Free, as I am announcing the first weekly Top Frugalista, I am giving away a free ad space, and you can link up your weekly savings here
My grocery shopping this week was not very planned and the savings were poor as a result, but with a husband in school full-time, two kids in school and lots of walking to and forth school each time, there is just not much time left for shopping anymore. I also had to shop for my son's birthday, and although the birthday cakes and cupcakes for school does not come out of the grocery budget, I still added a lot of stuff aka junk, which my son requested.
Fortunately we were well stocked up on meat, and I hope that it will last us until next week. I used to shop weekday mornings, now I am at Friday afternoon or Saturday….not fun!
This is how I did:
Publix trip (3 kids in tow)
Ricos cheese curls $1.49
Publix 1 gallon lemonade $1.99
Publix OJ $4.49
Publix quick oats $1.59
Publix whole wheat bread $1.69
Publix eggs $1.89
2 x Cape Cod chips @ $2.50 each = $5
2 x Edy's Ice Cream @ $3.50 each = $7- (2 x $0.75 MF) = $5.50 ($2.75 each)
2 x Minute Maid juice pouches @ $1.67 = $3.34
12 Beechnut stage 2 baby food on BOGO sale @ $0.55 each = $3.30 – $2 MF = $1.30 ($0.11 each)
Lactaid chocolate milk $3.89 – $2 MF = $1.89
Barilla pasta sauce on BOGO @ 2 for $2.75 ($1.38 each)
Badia seasoning $3.29
Green peppers $1.50
Bananas $1.19
Garlic $0.59
Cucumber $0.65
Tomato $1.37
Grapes $2.24
Red Onion $2
Lettuce $1.69
– Used $5 WD Competitor coupon
– Used $1 Publix Store Coupon
Total after coupons $41.53
Total Saved $27.78
Now for the fun part:
The Top Frugalista of the Week is:
Olenka is a Top Frugalista for sure, but she is new to the blogging world, so I hope you will welcome her, and encourage her to continue on in her blogging journey. Olenka is a a mother of three beautiful daughter, and her husband is quite handsome too. Olenka lives in beautiful South Florida….so somewhere in my "neighborhood". I love Olenka's tagline: "Couponing for a better tomorrow while living a simple life"
Please visit Olenka and check out her weekly savings, make sure to congratulate Olenka on her feature too!
Each week I will be featuring a Top Frugalista here at Frugality Is Free. To be eligible for a feature, you must have the Weekly Savings Linky button in your Savings post (the one you link up with), or on your blog sidebar (let me know where it is in the comment). I will use random.org to draw the winner.

Now as for a new bonus, I will be giving away a free weekly ad space for the Top Frugalista of the week.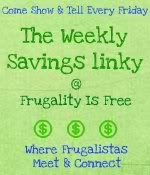 I would love to hear how you did, as I am sure you did much better than I am. I really need the inspiration, as I have been doing very poorly lately.
For more places to link up your savings check out the Weekly Savings Linky Collection, and if you have a giveaway on your blog don't forget to enter it at the Fantastic Friday Giveaway Linky.