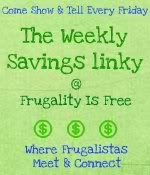 It is time to post your grocery savings at the weekly savings linky, so come link up your savings.
I shopped yesterday, as my four-year-old needed to bring a box of raisins for school. It was just one of those crazy days though, where I tried to get the grocery list done all morning.
As a one car family, it means that we often need to improvise. Since it was raining, and my husband was off early from school, he came home to pick us up and we dropped off our middle son at school at 1 p.m. I took my two other boys to the library next to the school, while my husband was supposed to get something done at the mechanic shop. This however, as I should have predicted, ended up taking a couple of hours, and as a result I spent three hours at the library with the boys. Don't get me wrong, I love the library, and I'm there five days a week, but 30 minutes is usually my max each time, as my 14-month-old cannot keep quiet. However, it was raining hard outside, so there was nowhere we could go.
I put my oldest son in a quiet corner, where I could see him. We read two books together, then he read 10 -15 books by himself, while I walked around with the baby trying to get him to sleep. The little guy was stubborn, and he never took a nap. At 4 p.m. it was time to pick up my son from school, and at this point I was exhausted.
Grocery shopping had to be done though (remember those raisins), so my husband dropped us all off at Publix..at the worst possible shopping hour. We skipped Target, since it was still raining, and we have to walk outside to get from Target to Publix.
Side note: Come link up your savings at the Weekly Savings Linky, and don't forget to see, who the Top Frugalista is.
Somehow the grocery shopping actually went smoothly, but amazingly my little one did not fall asleep. He was sitting comfortably in his Balboa Baby shopping cart cover, but no sleep.
Even going through the register went smoothly, and the boys each got a balloon. I did not buy as much as usual, but it is a good thing that the pantry and the freezer is stocked up.
Now, I don't know how I did it…well with the help of my 8-year-old stirring the bechamel sauce while I fed the baby….but my boys had homemade lasagna for dinner….
Now to the shopping…
Publix:
Publix lemonade $2.99
Publix OJ $4.49
Publix raisins $1.99
Aquafina water 24 ct. $3.99
2.52lbs of grapes $3.75
Mushroom white $1.50 – ($1 PC Babyclub) $0.50
5 lb white potatoes $2.99
3 lb onion $1.99
Plum potatoes $0.92
Bananas $1.02
Garlic $0.56
1 Sargento shredded cheese $2
2.60 lb London broil $9.21 – ($1 PC Baby Club) = $8.21 (cut into 3 meals (stew, fajitas and roast $2.74 per meal)
Wonka chocolate on sale at $3 – ($0.50 Target C and $1.50 MF) = $1
1 x Nestle refridgerated cookie dough on BOGO sale at 2 for $3.39 – (2 x $1 MF) $1.39 ($0.70 each)
2 x Yoplait Fiber One key lime yogurt on BOGO sale at 2 for $2.50 – (2 x $0.50) = $1.50 ($0.75 each)
2 x Ocean Spray Craisins trail mix on BOGO 2 for $2.25 – (2 x $1 MF) $0.25 ($0.13 each)
2 x Bush's garbanzo beans $0.99 each = $1.98 – ($1 off 2 MF) = $0.98 ($0.44 each)
2 x Bush's black beans $0.99 each = $1.98 – ($1 off 2 MF) = $0.98 ($0.44 each)
2 x 1/2 gallon whole lactaid milk @ $3.89 = $7.78 – (2 x $2 MF and $1 PC Baby club = $2.78 – ($1.39 each)
Green Giant steam fresh on BOGO sale at 2 for $2.39 – (2 x $0.50) = $1.39 ($0.70 each)
4 x 1 quart lactaid fat free milk @ $2.19 each – $8.76 – (4 x $2 MF) = $0.76 ($0.19 each)
– $5 Winn Dixie competitor coupon
Total out of pocket $42.94 for a family of 5
Total saved $53.21
Thanks to I Heart Publix for helping me plan my grocery trip.
I also want to thank everyone, who is linking up every week, and I especially want to thank those of you, who are commenting on your fellow frugalista's savings posts. While views are great, comments are even better. I try to comment on all savings posts linked up in the Weekly Savings Linky, but it is not always possible. I do visit every single post though as a part of checking for Frugalista entries, so even if you don't see a comment….I have checked out your savings.
The
Top Frugalista
This Week Is
Family Friendly Frugality
Heather from Family Friendly Frugality Is a Top Frugalista for sure, and she will make sure to supply you with the latest and best deals. Not only does she know how to save, but she knows how to enjoy life and create happiness. She is the mother of two little ones, and this Frugalista is all about living a full…and frugal life. I always say that living life frugally does not mean living life cheap, Heather from Family Friendly Frugality completely understands this statement.


Congratulations to Heather from Family Friendly Frugality you are the Top Frugalista @ Frugality Is Free this week, and you have won a free ad space for a week.
Please visit Heather from Family Friendly Frugality, and check out her weekly savings, please congratulate Heather on her feature and the free ad space.
Each week I will be featuring a Top Frugalista here at Frugality Is Free, and the Top Frugalista will get a free ad space at Frugality Is Free for a week. I will use random.org to draw the winner.

Top Frugalista Rules
(*Please leave a comment telling me, if you have done any of the below to ensure that your entries are added to the drawing.)


1) Make a blog post about The Weekly Savings Linky @ Frugality Is Free(5 entries)
2) add the Weekly Savings Linky button to a blog post (not older than 7 days), (3 entries) or
3) add the button to your main page sidebar, and leave a comment letting me know, where I can find it. (4 entries)
4) Tweet about the The Weekly Savings Linky (Leave tweet link in comment) (2 entries)


Example tweet:
Link up your savings posts at the Weekly Savings linky @ Frugality Is Free. http://tiny.cc/bzqln Enter to become the Top Frugalista too!
*(Adding the button or posting about the Weekly Savings linky is not mandatory for linking up at the Weekly Savings Linky. It is simply a way to get entries into the Top Frugalista drawing. While it is not mandatory, or necessary, it is highly appreciated, as it helps grow our frugalista network and thereby get more views to your weekly savings posts.)
If you don't have a button or ad, don't worry, I'll help you out, if you are the Top Frugalista.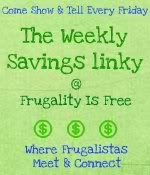 I would love to hear how you did…
Do you shop with or without kids?
For more places to link up your savings check out the Weekly Savings Linky Collection, and if you have a giveaway on your blog don't forget to enter it at the Fantastic Friday Giveaway Linky.
Please list name of blog, savings, name of store below.