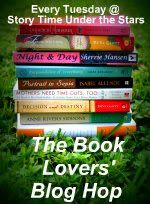 Most book lovers and book reviewers put a lot of time and effort into their book reviews, but quite often it gets few, if any, comments unless there is a giveaway attached. Don't get me wrong, I love book giveaways, but it would be nice to actually have someone read and comment on the book reviews that book lovers put so much time and effort into.
I would like to thank everyone, who participated in the first Book Lover's Blog Hops, and thank you to everyone, who helped spread the word. I also want to thank those of you, who took the time to read the linked up reviews, and I hope that everyone, who participate will continue to read and comment on the linked up reviews, so that we can all share the comment love.
************************************************************************
Linda's Lunacy
is written by Linda from the hills of Kentucky. Linda is the mother of six, she is a home-schooling mom, and she has been married for 29 years. Linda is busy with homeschooling, cooking from scratch, helping out at the farm and volunteering at her church. I don't know where she finds the time to read, but she does, and she actually reads quite a lot.
************************************************************************

The Rules:
1. Follow Story Time Under the Stars
2. Link up a book review below (ONE review per blog). Please link up to the review itself and not your main page.
3. Follow the person before you
4. Comment!!!! Leave a comment on the person before you's book review(s).
5. Follow and comment on as many blogs and book reviews that you would like to.
6. Follow and comment back – to make this Book Lovers' Blog Hop a success, comments are essential!
Book Lover of The Week and Ad Space Giveaway
If you would like your blog and book review to be featured next week and get125 x 125 ad space for a week at Story Time Under The Stars do one of the following to be eligible for the drawing:
Blog about the Book Lovers' Blog hop
Add the Book Lovers' Blog Hop Button to your sidebar or
Put the Book Lovers' Blog Hop button in the book review that you link up
Please comment below to let me know, if you are participating in the Book Lover's Blog Hop bonus feature and ad space giveaway.
You will need to have the Book Lovers' Blog Hop Button up at least until the following Tuesday, so that I can find it, when I check for eligible feature blogs and the ad space winner. If you have added the Book Lovers' Blog Hop button, please let me know in the comments.
I am hosting 5 book giveaways that I would like to share with you:
*I will use random.org to draw the Book Lover of The Week and ad space winner.
Please post blog name, book name and link up your review url below (not your blog url)