It is time for another round of the Fantastic Friday Giveaway Linky, and it is time to share the best giveaways in the blogoshere. So come link up your
blog giveaway
in this weekly
blog giveaway
linky, and come enter great giveaways as well. Entering contests, sweepstakes and blog giveaways can pay off big time if you do it consistently, and it really is possible to win.
I am currently hosting 13 giveaways, maybe there is something for you.
Current Giveaways
@ Frugality Is Free
Win 3 Great Bath Time Safety Products from Aquatopia 11/17
Win Hair Products from Misikko 11/15
Win the Custom Motorcycle Design Studio from ArtLab 11/11
Win a $55 CSN Stores Gift Certificate 11/11
Win a Plus Size Top from Alight.com 11/9
Win the MAGIX Photo Premium 9 Photo Editing & Web Design Program 11/9
Win a Lawry's Flavor Kit w Lawry's products and a Large Pyrex Bake N Store Dish 11/3
(2 Winners) Practical Glamour by Constance Dunn 11/3
Win Yo Gabba Gabba Live Tour: Win a Yo Gabba Gabba Prize Pack (Book, DVD and CD) 11/3
(5 Winners!) Win one of the cool Freaky Pets found at Hallmark Gold Crown Stores 11/3

@ Story Time Under the Stars

Win Flightless Goose by Eric D. Goodman 11/7
Win A Children's Book (Winner's Choice) from Barefoot Books 11/9

@ The Fit & Frugal Challenge
Win a $35 CSN Stores Gift Certificate – 11/3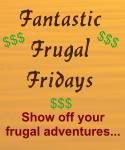 Please add name of
blog, prize and end date
when linking your giveaway.
Make sure to add that end date!!!