Welcome to
Follow Us Monday Morning
– the
Monday blog hop
and Google friend follow here at Frugality Is Free. This is the place where we casually meet and greet, have a little conversation and expand our blogging networks.
I would like to thank all of you who have followed from the beginning, and I would like to welcome any new participants in Follow Us Monday Morning. I also want to thank those of you, and there were quite a few, who have posted the Follow Us Monday Morning button in your post or on your sidebar. It is a great way to spread the word, and I am very thankful to all of you.
The Hot Blog of The Week is:
My Name's Amiko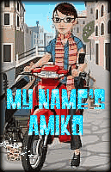 My Name's Amiko is written by Amiko, a SAHM of three children, and you can find a little bit of everything at My Name's Amiko. Amiko write about her every day life, about her crafts and recipes, and much much more.

Follow Us Morning Feature BONUS!!! As a new bonus, the Follow Us Morning Featured blogger will win a FREE ad space for a week at Frugality Is Free.

Tip:
The best way to gain more followers during a blog hop is by following others first, and leaving a link back so that they can easily find you. So don't forget to let someone know, if you are following their blog. One way to do this is by commenting and leaving your clickable blog signature (see below).


To participate:
Answer the Follow Us Monday Morning question (in the comment area or in a post) and post the button in your post. This is not mandatory, but it sure is appreciated, as it will help spread the word.
Follow Frugality Is Free
Follow the Hot Blog of the Week – My Name's Amiko
Follow the Blog listed before you
Follow as many other blogs as you wish, and please follow those who visit you back.
Link your blog post in the Follow Us Monday

Morning

linky
Please follow back!!!
*****For a chance to get featured next week, make a blog post about Follow Us Monday Morning, and let me know where to find it in the comment field below. I check all the comments, and I use random.org to draw the featured blog.*****


Question of the Week: What is your favorite part about the month of October?


My answer:
I love that the temperatures in South Florida finally go down a bit, and it is actually possible to spend time outside without burning up. Today I went to the beach with my three sons, and for the first time in almost two months we were actually able to go in the water, as it was incredibly calm and beautiful.
October is also my "original" anniversary month, as this is when my husband and I first became a couple many moons ago.


If you are looking for more places to link up, you have come to the right place. In my top navigation bar you will find a wealth of places to link up. Check out the Blog Hop Linky Collection, the Art, Craft, Tablescape and Food Linky Collection and the Savings Linky Collection for places to link up and expand your blogging network.