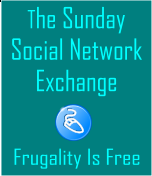 Welcome to the Sunday Social Network Exchange, the place to connect with other bloggers and expand your Twitter, Facebook, Networked Blogs and Blog Frog Network. The Sunday Social Network Exchange has replaced the The Twitter Exchange here at Frugality Is Free.
In an effort to make the best use of time and blog space, Frugality Is Free will now host linkies for all of the above mentioned social networks every Sunday. If you have any suggestions as to whether or not more networks should be included, just leave me a message below.
*********************************************************************
The Featured Blogger @

this week's Sunday Social Network Exchange is:
This is what Melbie says about herself:
"I am Melanie aka Melbie. I am a 33 year old wife to Jason and mommy to 3 children (Jenna 9, Michael 7 and Nolan 1 1/2). My family resides in Queen Creek, AZ which is about an hour Southeast of Phoenix. My interests include reading, having fun with my family, movies, TV and definitely music. I am that weird chick you see in the car next to you belting out songs, whether the windows is up OR down!
I have been blogging since February 2010 and it seems I have found an undiscovered joy and talent for. I love to try new things and this is a fantastic way for me to do that, while contributing to my family's income. I get very excited when I receive something new in the mail to review and I only choose things that are actually going to be used in my household, whether it be clothing, diapers, household decor, cleaning products, health and beauty, electronics and appliance, etc. I have met many wonderful ladies via the Blogosphere and they have taken me in with open arms and given me wonderful advice on helping to build up my name and blog and I am truly grateful."
All of the above is from About Melbie
Congratulations to Melbie from It's Me Melbie , you will get the 2nd place in the linkys and you have won a free ad space for a week at Frugality Is Free.
*********************************************************************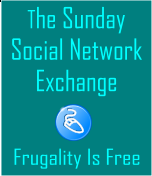 Join me at the Sunday Social Network Exchange
1) Link up your twitter, facebook and/or Networked Blogs account
2) Follow Frugality Is Free on the Social Network(s) where you link up.
3) Follow the Featured Blog – (It's Melbie) – Will this be you?
4) Follow as many Bloggers as you wish on the social networks that you link up at.
5) Please follow back
For a chance to be next weeks featured blogger
(Make sure to let me know in the comment field, if you do any of the below.)

1) Make a blog post about The Sunday Social Network Exchange (5 entries)
2) add the Sunday Social Network Exchange button to a blog post (not older than 7 days), (2 entries)
3) add the button to your main page sidebar, and leave a comment letting me know, where I can find it. (4 entries)
4) Tweet about the Sunday Social Network Exchange (Leave tweet link in comment) (2 entries)
Example Tweet: Come Join Me at the Sunday Social Network Exchange, the place to link up and expand all of your social networks. http://tiny.cc/ng12z
Tomorrow you can expand your google friend connect network at the Follow Us Monday Morning blog hop right here at Frugality Is Free. The linky opens at 10 p.m. EST.
If you are looking for more places to link up, you have come to the right place. In my top navigation bar you will find a wealth of places to link up. Check out the Blog Hop Linky Collection, the Art, Craft, Tablescape and Food Linky Collection and the Savings Linky Collection for places to link up and expand your blogging network.
Submit your Twitter link below:

Submit your facebook link below:

Submit your Networked Blogs link below:
Submit your Blog Frog link below: