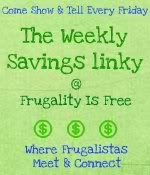 It is time to post your grocery savings at the weekly savings linky, so come link up your savings.
This morning I finally got a chance to head to Publix, and my husband spoiled me to take our two oldest boys. This left me with an adorable 14 month old, who was extremely charming with long fingers.
The Publix store I shop at is on the small side, so there were a lot of varieties that they did not have, but the pluses about this store are great customer service and they take Target coupons as one of the only stores in our area. I stocked up big time on pasta, but half of it will be donated to a local food pantry.
Our fridge was pretty cleaned out of the basics, but at least we had meat to last us a few days in case there were no meat deals.
The shopping lingo:
PC Public coupon
MF Manufaturer's coupon
TC Target Coupon
MP Market Place (Target brand)
BOGO Buy One Get One Free
Publix
Publix OJ $4.49
Publix Eggs $1.39
Publix buns $1.99
Publix hot dog buns $1.19
2 xLactaid whole milk for the baby 2 x $3.89 = $7.78 – (2 x $2MF) = $3.78 ($1.89 each)
4 x Lactaid fat free milk 4x $2.19 = $8.76 – (4 x $2MF) = $0.76 ($0.19 each)
6 Hunts canned tomatoes on BOGO for $1.29 = 3 x $1.39 = $4.17 – (2 x $0.45MF and 2 x $1PC) = $1.27 ($0.21 each)
10 x Ronzoni Quick Cook on BOGO at 10 for 5 x $1.39 = $6.95 – (10 x $0.55MF) = $1.45 ($0.15 each)
2 x Ronzoni Quick Cook and Ronzoni reg on BOGO at 2 for $1.39 – ($0.55 and $0.50 MF) = $0.34 ($0.17)
2 x Sundown VitaminsMagnesium/Calsium at @($3.89 each) x 2 = $7.78 – ($6PC and 2 x $1MF) = FREE = ($0.22 overage)
2 x Sundown Vitamins Spiderman @ $5.99 = $11.98 – ($6PC and 2 x $1MF) = $3.98 ($1.99 each)
2 x Muir Glen tomato sauce @ $0.89 = $1.78 – (2 x $0.75) =$0.28 ($0.14 each)
Muir Glen $0.89 – $0.75 =$0.14
2 x Murray cookies @ $1.34 = $2.68
Eggplant $.99/lb =$0.74
Zucchini Squash, $.99/lb = $1.13 – $1 = $0.13
Baby Portabella Mushrooms 8 oz pkg, $1.69/lb
1-Gold Potatoes, 5 lb bag, $2.99/lb


Total out of pocket $29.69
Total saved $56.95
66% Saved
I am posting this linky early today, as I might not be home later on, so I hope you will all link up below. I would also like to invite all of you to link up your frugal posts (no grocery savings posts) at the Fantastic Frugal Fridays blog party, which just launched today.
The
Top Frugalista
This Week Is
This is what the thrifty woman behind A Thrifty Penny says about herself:

"I am a new Stay At Home Mama who loves to find great deals. A Thrifty Penny helps me stay organized, save money and feed my family meals for under $5.00, find great deals at stores like CVS, Walgreens, Target and Walmart,and most of all it helps me to stay sane!"
Congratulations

to

A Thrifty Penny

, I hope everyone will stop by to see what kind of thrifty things she has been up to lately.
Each week I will be featuring a Top Frugalista here at Frugality Is Free, and the Top Frugalista will get a free ad space at Frugality Is Free for a week. I will use random.org to draw the winner.

Top Frugalista Rules
1. Add the Weekly Savings Linky button to your post or sidebar.
2. Extra entry: Tweet about the Weekly Savings Linky


Example tweet:
Link up your savings posts at the Weekly Savings linky @ Frugality Is Free. http://tiny.cc/bzqln Enter to become the Top Frugalista too!
*(Adding the button or posting about the Weekly Savings linky is not mandatory for linking up at the Weekly Savings Linky. It is simply a way to get entries into the Top Frugalista drawing. While it is not mandatory, or necessary, it is highly appreciated, as it helps grow our frugalista network and thereby get more views to your weekly savings posts.)
If you don't have a button or ad, don't worry, I'll help you out, if you are the Top Frugalista.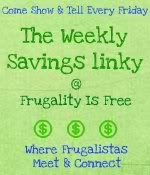 I would love to hear how you did…how do you find time to save and shop?
For more places to link up your savings check out the Weekly Savings Linky Collection, and if you have a giveaway on your blog don't forget to enter it at the Fantastic Friday Giveaway Linky.
Please list name of blog, savings, name of store below.