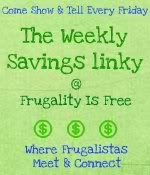 It is time to post your grocery savings at the weekly savings linky, so come link up your savings.
It has been an absolutely crazy week at my house, and I have had three days where I left the house at 7 a.m. only to return between 6 and 8 p.m. I am absolutely exhausted, and my house looks like a tornado blew through it. Today, was one of those days, where we left at 7 a.m., had an 8 a.m. appointment, went straight from the doctor's office to school etc. As if the day was not long enough as it was, I decided to treat my boys to some fun after school.
My oldest son had encountered bullies at school, and to cheer him up I took all three boys to a party downtown. It is there every Friday, but it has been a while, since we have been there. They have bounce houses, face painting and games, and there was a new playground up as well.
To get there, we jumped on the bus, and it sure is a hassle getting three boys on the bus in the middle of rush hour. We did it though, and the boys all had a blast.
Yesterday we got grocery shopping done, but I somehow misplaced the Publix receipt. I do know that I was about to get a panic attack, when the original bill came to around $150. In the end I ended up spending $85 and saving $85. It was still bad though, as I had already spent a bundle at Target. Last week I only spent half of my grocery budget, so we were out of a lot of stuff, but still….arghh!
Side note: Come link up your savings at the Weekly Savings Linky, and don't forget to see, who the Top Frugalista is.
About the lingo:
BOGO: Buy One Get One Free
MF: Manufacturer's Coupon
PC: Publix Coupon
TC: Target Coupon
MP: Market Place (Target Brand)
At Publix some of my best deals were:
Ragu Pasta Sauce, Traditional: With Meat or Regular; or Chunky Gardenstyle: Garlic & Onions, Green Pepper & Mushrooms, or Super Mushroom, 45 oz jar, BOGO $3.35 – ($0.50 TC and $0.50 PC) = $2.25 ($1.13)
2 x Shedd's Spread Country Crock, Regular or Churn Style, 15 oz tub or Twin Pack, 2 pk, 7.5 oz tub, BOGO $1.89 – (2 x $0.55) = $0.79 ($0.40 each)
2 x Shedd's Spread Country Crock, Regular or Churn Style, 15 oz tub or Twin Pack, 2 pk, 7.5 oz tub, BOGO $1.89 – (2 x $0.55) = $0.79 ($0.40 each)
15 x Krafts Cheese (3 x White American Cheese Slices, 2 bags cheese cubes, 5 x low fat cheddar cheese and 5 x fat free mozzarella cheese = 15 x $2 = $30 – (3 x $5 Coupons) = $15 ($1 each)
20 Energizer AA batteries reg. $10.99 – $3 PC, $1 TC and $1 MF = $5.99
Target:
Huggies wipes $1.99 – $0.75 PC and $0.50 MF = $0.74
MP Chicken 2.5 lb $6.44 – $2 TC = $4.44
MP Salmon reg. $8.99 on sale for $6.99 – $1 TC = $5.99
Avocado $1
MP Chips $2.50 – ($2.50 TC w/ you buy $25+) = FREE
Nesquick on sale for $2.99 – $1.25 MF = $1.74
MP Bread $1.49 – $0.50 TC = $0.99
Gold N Plump chicken $3.50 – $0.75 = $2.75
Digiorno pizza on sale for $4.50 – $1 MF = $3.50
3 x MP OJ on sale @ $1.99 = $5.97
Total $27.12
Total Saved $18 (Approximate calculations between sale and coupons)
Total spent for a family of four $112.12
Total saved $103
Thanks to I Heart Publix for helping me plan my grocery trip.
I also want to thank everyone, who is linking up every week, and I especially want to thank those of you, who are commenting on your fellow frugalista's savings posts. While views are great, comments are even better. I try to comment on all savings posts linked up in the Weekly Savings Linky, but it is not always possible. I do visit every single post though as a part of checking for Frugalista entries, so even if you don't see a comment….I have checked out your savings.
The
Top Frugalista
This Week Is


Congratulations to Bridget from Being Frugal & Making It Work you are the Top Frugalista @ Frugality Is Free this week, and you have won a free ad space for a week.
Bridget is the mother of two, is married to a wonderful husband, and she understands how to stretch every penny of her family's budget. Bridget is a SAHM, but she works online and wins some fantastic rewards to help with birthdays, Christmases, and she even pays for her family's summer vacation with her online earnings. Just take one look of the receipt above, this is how Bridget at Being Frugal & Making It Work shops!
Please visit Bridget from Being Frugal & Making It Work and check out her weekly savings. Bridget could need some more frugal followers as well, so please consider adding Being Frugal & Making It Work to your Google follower list. congratulate Bridget on her feature and the free ad space.
Each week I will be featuring a Top Frugalista here at Frugality Is Free, and the Top Frugalista will get a free ad space at Frugality Is Free for a week. I will use random.org to draw the winner.

Top Frugalista Rules
(*Please leave a comment telling me, if you have done any of the below to ensure that your entries are added to the drawing.)


1) Make a blog post about The Weekly Savings Linky @ Frugality Is Free(5 entries)
2) add the Weekly Savings Linky button to a blog post (not older than 7 days), (3 entries) or
3) add the button to your main page sidebar, and leave a comment letting me know, where I can find it. (4 entries)
4) Tweet about the The Weekly Savings Linky (Leave tweet link in comment) (2 entries)


Example tweet:
Link up your savings posts at the Weekly Savings linky @ Frugality Is Free. http://tiny.cc/bzqln Enter to become the Top Frugalista too!
*(Adding the button or posting about the Weekly Savings linky is not mandatory for linking up at the Weekly Savings Linky. It is simply a way to get entries into the Top Frugalista drawing. While it is not mandatory, or necessary, it is highly appreciated, as it helps grow our frugalista network and thereby get more views to your weekly savings posts.)
If you don't have a button or ad, don't worry, I'll help you out, if you are the Top Frugalista.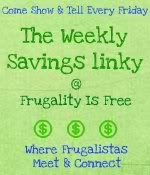 I would love to hear how you did…
What is your favorite day to shop?
For more places to link up your savings check out the Weekly Savings Linky Collection, and if you have a giveaway on your blog don't forget to enter it at the Fantastic Friday Giveaway Linky.
Please list name of blog, savings, name of store below.