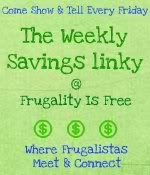 It is time to post your grocery savings at the weekly savings linky, so come link up your savings. Are you the Top Frugalista, who won a feature and a free ad space?
As a one-car family I have to be creative when it comes to grocery shopping. Yesterday I took the bus to drop of my youngest son at the local college, then I walked a little over a mile to get to my oldest son's school. After I picked him up we headed for the bus stop, and I took him and my little one on the bus to a local shopping plaza.
We started out at Publix, then we checked out CVS as Simply CVS had some great deal ideas listed…but of course my store was out of everything. We then rushed to Publix to do our grocery shopping. After picking up our middle son, my husband came to pick all of us up and the groceries….
I did not buy much, but I added meat to the list and that sure took my total upwards. I grew up on a farm, and it is different and very expensive having to buy meat.
After a day like that I am always beat! One of these days I will write a post titled "The Truth About The One-Car Family."
And now to the grocery shopping….
The shopping lingo:
PC Public coupon
MF Manufaturer's coupon
TC Target Coupon
MP Market Place (Target brand)
BOGO Buy One Get One Free
If you wonder why I posted a photo of the vitamins when it is not on the list….I was going to buy four of these expensive kids vitamins (the only ones my boys will take without hassle) for the price of one….but there were none left! Argh….and the sale ended today:(
What I missed:
Publix
Publix emonade $3.89
Publix Eggs $1.39
2 x Lactaid whole milk for the baby 2 x $3.89 = $7.78 – (2 x $2MF) = $3.78 ($1.89 each)
4 x Lactaid fat free milk 4x $2.19 = $8.76 – (4 x $2MF) = $0.76 ($0.19 each)
Ajax dish detergent $1.79
6 x Zatarains Black Bean and Rice on BOGO sale @ $1.79 = 6 for $5.47 – (2 x $1(off 3) MF) = $3.47 ($0.56 each)
Vigo Yellow Rice $1.29 – $0.50 MF = $0.79
Publix Yellow Rice (FREE when you Buy Vigo Yellow Rice)
Grapes (2.13 lbs) = $3.18
2 Hass Avocados @ $1 each = $2
Tomatoes $1.85
3 lb apples $2.69
Garlic $0.43
Publix ground pork $1.81
Publix ground pork $2.19
Publix ground chuck $8.65


Total out of pocket $38.26
Total saved $25.86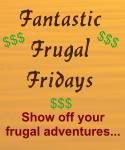 I would like to invite all of you to link up your frugal posts (no grocery savings posts) at the Fantastic Frugal Fridays blog party.
***************************************************************************
The
Top Frugalista
This Week Is
Centsable Stewardship
Holly from Centsable Stewardship had an absolutely fantastic grocery trip last week, and I actually found a lot of inspiration in her savings to stretch my own budget even more.
The above is a savings of 88 percent! 88%!!! The best part about Centsable Stewardship is that Holly from Centsable Stewardship did not buy a lot of useless products to increase her savings. She bought loads of produce, canned tomatoes, peanut butter and lots more. After reading about Holly's trip, I headed to Publix to get some great peanut butter….but unfortunately it was not BOGO at my store…arghh!
Still, Holly's shopping trip sure did inspire me!
This is what Holly from Centsable Stewardship has to say about herself and her blog:
"Hi there! My name is Holly and I am a mother of three young children and married to a wonderful loving husband of nearly 10 years. I am a stay at home mom, and in order for me to stay at home with my "babies" (who are now ages 8 & 6, I have twin girls), I needed to find a way to make our dollars stretch. In Sept. 2009 I was introduced to couponing, and have now reduced my grocery budget from $700 to $300 a month, through the use of using coupons wisely and effectively. I have had several requests from friends from all over to share my "secrets", and so I have started this blog, "Couponing For Beginners". I hope to share with you all my secrets and how I am able to save so much on my trips to the grocery store. I hope this is a good resource for you to come to and so you are able to begin to use coupons and save on your grocery budget just as much as I have (if not more)."
Excerpt from Holly's About page.
***************************************************************************
Each week I will be featuring a Top Frugalista here at Frugality Is Free, and the Top Frugalista will get a free ad space at Frugality Is Free for a week. I will use random.org to draw the winner.

Top Frugalista Rules
1. Add the Weekly Savings Linky button to your post or sidebar.
2. Extra entry: Tweet about the Weekly Savings Linky
***Let me know in the comment field below if you have done any of the above
to make sure that your entry is counted***


Example tweet:
Link up your savings posts at the Weekly Savings linky @ Frugality Is Free. http://tiny.cc/bzqln Enter to become the Top Frugalista too!
*(Adding the button or posting about the Weekly Savings linky is not mandatory for linking up at the Weekly Savings Linky. It is simply a way to get entries into the Top Frugalista drawing. While it is not mandatory, or necessary, it is highly appreciated, as it helps grow our frugalista network and thereby get more views to your weekly savings posts.)
If you don't have a button or ad, don't worry, I'll help you out, if you are the Top Frugalista.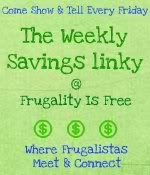 I would love to hear how you did…
Where do you find the best price for quality meat?
For more places to link up your savings check out the Weekly Savings Linky Collection, and if you have a giveaway on your blog don't forget to enter it at the Fantastic Friday Giveaway Linky.
Please list name of blog, savings, name of store below.