ALDI will open in Pembroke Pines, South Florida on December 8th, and to celebrate Frugality Is Free is hosting another great ALDI giveaway. Three (3) of Frugality Is Free's readers will win a $25 ALDI gift certificate just in time for Christmas.
I have been working on a comparison shopping list between Aldi, Publix and Target on the regular groceries that I usually buy the store brand off, since it is the cheapest.
You can find it here:
Grocery price comparison list between Aldi, Publix and Target.
You can also find lots of great printable coupons at my coupon database My Best Printable Coupons.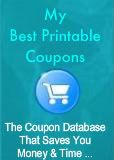 I recently got a chance to try some of ALDI's fabulous groceries, and I have to say that the Chocolate Crisp Bars are phenomenal – see what other fabulous
ALDI groceries
I found at my front door.
As Christmas is approaching fast, it is time to get started on the holiday goodies. According to Frugality Is Free's readers, ALDI is the place to go for the best prices on your baking staples.
My name means Wisdom
said:: "My fave products to buy there are bakery staples like flour, sugar and evaporated milk because it is so much cheaper than other places. The twins love Aldis come gingerbread house making time, because I let them go crazy picking out candy to use."
JC
said: "I like buying baking supply at Aldi's, flour, yeast…etc. Better price even without coupons."
Mama Hen
said:"I shopped at ALDIs for the first time two weeks ago and could not believe the low prices. Their eggs were lots cheaper!"
Gianna
said: "I like to buy graham crackers, cream cheese and sweetened condensed milk because they are cheaper there than anywhere else."
Swtlilchick
said: "I shop at Aldi's because they are cheaper than most of the other
stores and my favorite item is their eggs,they are also cheaper."
You can find the new South Florida ALDI stores at:
ALDI: 3301 N. State Rd. 7, Lauderdale Lakes, FL
NOW OPEN!
ALDI: 3825 W. Hillsboro Blvd, Deerfield Beach, FL
NOW OPEN!
and Coming SOON!
ALDI: 11330 Pembroke Pines Blvd., Pembroke Pines, FL.
Opens December 8th, 2010
For more info about
ALDI
Win It
Giveaway Closed:
Giveaway Winners Will Be Announced Here
ALDI is generously giving away two (3) $25 ALDI gift certificates to Frugality Is Free's readers to celebrate the openings of their ALDI store Pembroke Pines, South Florida. This is a fantastic opportunity to try to see how far you can actually stretch your money at ALDI.




*Now don't forget to enter the other open ALDI giveaway here at Frugality Is Free. You still have time to win one of the 2 ALDI gift certificates.
How to Enter
Mandatory entry must be done in order for any bonus entries to count.
This giveaway will end Thursday December 16th at 10 p.m. EST
.



The giveaway is open to U.S. residents 18 years old or older.

I will chose the winner via Random.org, and the winner will be notified by e-mail. Make sure to

leave your email

, or have your contact available on your blogger site. The winner will have 48 hours to respond, and if there is no response another winner will be chosen.
Disclaimer: I did not receive any compensation for hosting this giveaway, and the opinions expressed in above have not been influenced in any way by other than my own experience with ALDI stores.