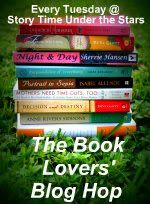 Most book lovers and book reviewers put a lot of time and effort into their book reviews, but quite often it gets few, if any, comments unless there is a giveaway attached. Don't get me wrong, I love book giveaways, but it would be nice to actually have someone read and comment on the book reviews that book lovers put so much time and effort into.
I would like to thank everyone, who participate every week here at the Book Lovers' Blog Hop, and thank you to everyone, who has helped spread the word. I also want to thank those of you, who take the time to read the linked up reviews, and I hope that everyone, who participate will continue to read and comment on the linked up reviews, so that we can all share the comment love.
************************************************************************
Book Noise

is written by Jennifer, and after weeks of reading Book Noise there is one thing I know for a fact: Jennifer reads A LOT of books!
After browsing through Book Noise, I found out a few things about Jennifer that I wanted to share about you.
Four things Jennifer has always wanted to do is visit the big apple, take a trip around the world, write a book and go to Hell's Kitchen and have a talk with Gordon Ramsay. Despite having loads of book reviews on her blog already, Jennifer just started her book blog. Jennifer lives in Texas, works at her local library and she is married to Marty, whom she met online, for three years.

At Book Noise Jennifer mostly writes reviews from the YA and Adult Fiction genres.
Congratulations Jennifer, you have won a free week ad at Story Time Under the Stars….and as an extra bonus at Frugality Is Free as well.
************************************************************************

The Rules:
1. Follow Story Time Under the Stars
2. Link up a book review below (ONE review per blog). Please link up to the review itself and not your main page.
3. Visit and comment on the review linked up before you.
5. Follow and comment on as many blogs and book reviews that you would like to.
6. Follow and comment back – to make this Book Lovers' Blog Hop a success, comments are essential!
Book Lover of The Week and Ad Space Giveaway
If you would like your blog to be featured next week and be entered to win a 125 x 125 ad space for a week at Story Time Under The Stars and Frugality Is Free, you can enter below. Each method counts as one entry!
Blog about the Book Lovers' Blog hop
Add the Book Lovers' Blog Hop Button to your sidebar or
Put the Book Lovers' Blog Hop button in the book review that you link up
Tweet about the Book Lovers' Blog Hop
Example tweet: I linked up my book review at the Book Lovers' Blog Hop. http://tiny.cc/2hu21 Come join me & link up your book review too!
Please comment below to let me know, if you are participating in the Book Lover's Blog Hop bonus feature and ad space giveaway.
Please post blog name, book name and link up your review url below (not your main blog url)