Our Head Chefs Family
As a mother of three boys I consider it my duty as a woman to teach them how to cook and bake. This means that they always help me out, whenever we are making something special in the kitchen, and they love it. Lately my kids have been even more eager to help me cook, because they have been using their cool new cooking tools for kids from
Head Chefs
.
Head Chefs is an awesome line of cooking tools for kids, and there is just something very special about them.The fun Head Chefs cooking tools makes life in the kitchen even more fun for little hands, and it even makes eating dinner a big more attractive.
The Head Chef Cooking Tools for Kids are:
Made of high quality products
Dishwasher safe
Fun and unique
My youngest son loves his Head Chefs fork, and his older brother really loves it, whenever he lets them borrow it. The Head Chefs bowl is also a hit with all three of my sons, and thanks to the Head Chefs Cleaning Brush my eight-year-old is actually helping out with the dishes.
Product: Kids Fork "Lil' Fork"
Personality: Lil' Fork along with Lil' Spoon and Lil' Spreader is one of the young kids in The Head Chefs gang. He tries hard to hang with the adults and makes up for his lack of experience with fun and sometimes challenging questions. Lil' Fork looks out for his sister and brother and adds a lot of grounding and wisdom to The Head Chefs kids gang.
Color: Mint Green
Material(s): Silicone and Stainless Steel
My four-year-old loves baking cakes, and now he finally got to scrape the bowl, because he has his very own "Sunny" Head Chefs spatula that can be used for many jobs including scraping the chocolate cake bowl clean.
Sunny:
Product: Silicone Spatula "Sunny"
Personality: Sunny is the jock of The Head Chefs gang. He loves all sports and plays well with his Head Chefs teammates. His multi-purpose nature makes him a great to be with when a solution to a kitchen problem is at hand. He's very loyal to The Head Chefs and would never flip sides for you, unless of course you were a pancake.
I know the Head Chefs rolling pin is pink, but it sure does not matter to my sons, because all three of them loves the Head Chefs rolling pin. Below you see my fifteen-month-old son rolling out pizza dough.
Product:
Sil-pin Jr.
Color(s):
Creamy Yellow, Cherry, Eggplant, Blueberry, Apricot, and Lime
Material(s):
Silicone construction
Description
Dimensions: 9″ x 1.75″
Available in 6 fun and festive colors to match every kitchen
About Head Chefs:
If you are still not convinced about how cool the Head Chefs cooking tools for kids actually are just check out this Head Chefs video. My boys LOVE it!
Buy The Head Chefs Cooking tools for Kids:
You can buy Head Chefs cooking tools for kids at
Headchefs.com
! They come in different sizes and many different colors.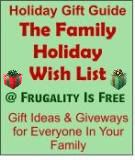 Win It:
Head Chefs is generously giving away a selection of Head Chefs Cooking Tools for Kids to one of Frugality Is Free's readers.
How to Enter
Visit
Head Chefs
and come back to tell me what product from their entire product line you would love to have – 1 Entry (Leave 1 comment)
Mandatory entry must be done in order for any bonus entries to count.
Bonus Entries
Giveaway Has Ended –
Giveaway Winners Will Be Announced HERE
This giveaway will end Thursday December 9th at 10 p.m. EST
.



The giveaway is open to U.S. residents 18 years old or older.

I will chose the winner via Random.org, and the winner will be notified by e-mail. Make sure to

leave your email

, or have your contact available on your blogger site. The winner will have 48 hours to respond, and if there is no response another winner will be chosen.
Disclaimer
:
I received the complimentary cooking tools for kids from Head Chefs for the purpose of this review and giveaway. I did not receive any monetary compensation, and the opinions expressed in above have not been influenced in any way by other than my own experience with Head Chefs products.
* Product information from Head Chefs website
** Images copyright Frugality Is Free