Come post your grocery shopping deals and grocery savings at the weekly savings linky. I saved $171, how much did you save on your groceries? The Top Frugalista wins a feature and a free ad space.
********************************************************
In honor of ALDI finally opening stores in South Florida, I am hosting a lot of ALDI giveaways. You get an extra entry just for linking up below, but makes sure to let me know that you did on the giveaway post for your entry to count.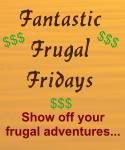 I would also like to invite all of you to link up your frugal posts (no grocery savings posts) at the Fantastic Frugal Fridays blog party. You will also earn an extra bonus entry into the ALDI giveaway from linking up your frugal posts.
---
The Grocery Shopping Lingo:
BOGO: Buy One Get One Free
MF: Manufacturer's coupons
PC: Public Store Coupons
TC: Target Store Coupons (Competitor coupon)
Grocery Shopping at Publix
Free Del Monte Pineapples
Items on Sale at Publix
Items bought at full price
Items bought at a GREAT price or FREE!
While I actually have photos of everything I bought, I misplaced my receipt during my Thanksgiving cleaning, but the total and the savings is one that I will not forget.
I used the following big coupons.
– 3 x $5 Public coupons
– 1 x $5 Winn Dixie competitor coupon
– $24 Del Monte gift certitifate
Each week I will be featuring a Top Frugalista here at Frugality Is Free, and the Top Frugalista will get the second spot in the linky and a free ad space at Frugality Is Free for a week. I will use random.org to draw the winner.
'
1. Add the Weekly Savings Linky button to your post or sidebar.
2. Extra entry: Tweet about the Weekly Savings Linky

Example tweet:
Link up your savings posts at the Weekly Savings linky @ Frugality Is Free. http://tiny.cc/bzqln Enter to become the Top Frugalista too!
*(Adding the button or posting about the Weekly Savings linky is not mandatory for linking up at the Weekly Savings Linky. It is simply a way to get entries into the Top Frugalista drawing. While it is not mandatory, or necessary, it is highly appreciated, as it helps grow our frugalista network and thereby get more views to your weekly savings posts.)
For more places to link up your savings check out the Weekly Savings Linky Collection, and if you have a giveaway on your blog don't forget to enter it at the Fantastic Friday Giveaway Linky.
REMINDER: Don't forget to enter to win money for your holiday groceries:
Please list name of blog, savings, name of store below.