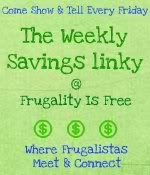 Come post your grocery savings at the weekly savings linky, so come link up your savings. The Top Frugalista wins a feature and a free ad space.
********************************************************
EXTRA BONUS
I have a special surprise for all my frugal blogging friends, because over the next two months I will be giving away ten (yes 10!) ALDI gift certificates to Frugality Is Free's readers in honor of ALDI finally opening stores in South Florida.
The first two Aldi giveaways are already open. If you link your weekly savings post up below, you get an extra entry into the ALDI giveaway. Make sure to leave a comment on the giveaway post to get your extra entry.
*********************************************************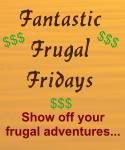 I would also like to invite all of you to link up your frugal posts (no grocery savings posts) at the Fantastic Frugal Fridays blog party. You will also earn an extra bonus entry into the ALDI giveaway from linking up your frugal posts.
---




My Grocery Store Savings
It has been a crazy week and I almost did not get any shopping done.
On Saturday we had a yard sale, and it was crazy, but I almost have enough cash put together for my son's bunk bed. My boys sold cookies at the yard sale at 5 for $1. They earned $8. Last week we got the cookie mix for $0.10 a box, they used 2 boxes and after eggs and butter, their profit was $7.
My baby (15 months) now has to use the nebulizer machine every four (4) hours for his asthma. It sure is not easy to get a busy toddler to sit still with a mask that's puffing out stuff. Then there were the complete school lockdown in the entire county on Wednesday, and Thursday my four-year-old hurt his arm so bad that we thought he might have broken it. Fortunately he has recovered! To end my week I ended up washing a clean diaper in with a whole bunch of clothes. CVS brand diaper! Don't wash them! What a nightmare that was.

On the bright side, we FINALLY got our a new Internet company up and running, and after more than a month with extremely slow Internet I am finally up to speed again. It also warmed up again, and I am now running around in shorts again. Yeah!


This afternoon I managed to get a small amount of shopping done, and best of all I got a stack of free coupon inserts. I actually found a coupon booklet at Publix as well, the Coca Cola open happiness holiday booklet.
The savings lingo:
BOGO: Buy One Get One Free
MF: Manufacturer's coupons
PC: Public Store Coupons
TC: Target Store Coupons (Competitor coupon)
Publix:
2 x Silk Vanilla Almond milk at 2 for $5 – $2 MF = $3 ($1.50 each)
2 x Thomas whole wheat bagels on BOGO at 2 for $3.99 ($2 each)
2 x Smart Balance buttery spread on BOGO sale at 2 for $3.09 ($1.55 each)
Publix hot dog buns $1.19
Publix buns $1.99
Publix whole wheat bread $1.69
12 Beechnut baby food on BOGO sale at 2 for $0.55 = $3.30 – $2 MF = $1.30 ($0.11 each)
2 x Betty Crocker cake mix on BOGO sale at 2 for $1.95 ($0.98 each)
2 x Betty Crocker icing on BOGO sale at 2 for $1.89 – $0.50 MF = $1.39 ($0.70 each)
4 x Nestle morsels on BOGO sale at 2 for $2.97 – $1 MF = $3.94 ($0.99 each)
4 x Vigo Yellow Rice on BOGO sale at 2 for $1.29 = $2.58 – (4 x $0.50 MF) = $0.58 ($0.20 each)
Barilla Plus Rotini $2.19 – FREE coupon = FREE
Bananas $0.90
– $5 Competitor coupon (WD)
Total out of pocket $19.46
Total saved $40
Since I had to walk from Publix to my youngest son's school I could only have a little bit of groceries, and I could not take meat etc with me, since it is quite hot out. I am hoping that I will be able to go shopping tomorrow, but I had to get a little just in case I won't be able to. The store I went to today is much bigger than my regular Publix, but they do not take Target coupons.
Now on a different note! Aldi has finally opened in South Florida, but I have not been able to go yet. Yesterday I came home from the park to find a box of groceries in front of my door….from ALDI! Now that is cool, even though I couldn't make it to the opening I still have ALDI groceries. I cannot wait to go…SOON!
Do your stores take competitor coupons?
Thank you to I Heart Publix, for helping me with my grocery savings.
***************************************************
The Top Frugalista This Week Is
For the second week in a row!


Living a Bona Fide Life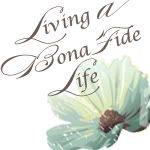 Living a Bona fide Life
is written by Courtney, and Courtney managed to get to both Publix, Target and Krogers this week. She saved 49 %
Courtney has been married for five years, she is a 20 something frugalista, and she loves to save and find the best deals. Courtney also shares some great recipes and easy cooking tutorials, and if you need to learn from a true frugalista Courtney is definitely the one.
*********************************************************************
Each week I will be featuring a Top Frugalista here at Frugality Is Free, and the Top Frugalista will get the second spot in the linky and a free ad space at Frugality Is Free for a week. I will use random.org to draw the winner.

Top Frugalista Rules
1. Add the Weekly Savings Linky button to your post or sidebar.
2. Extra entry: Tweet about the Weekly Savings Linky

Example tweet:
Link up your savings posts at the Weekly Savings linky @ Frugality Is Free. http://tiny.cc/bzqln Enter to become the Top Frugalista too!
***Let me know in the comment field below if you have done any of the above
to make sure that your entry is counted***
*(Adding the button or posting about the Weekly Savings linky is not mandatory for linking up at the Weekly Savings Linky. It is simply a way to get entries into the Top Frugalista drawing. While it is not mandatory, or necessary, it is highly appreciated, as it helps grow our frugalista network and thereby get more views to your weekly savings posts.)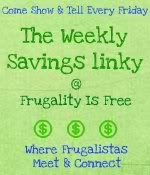 For more places to link up your savings check out the Weekly Savings Linky Collection, and if you have a giveaway on your blog don't forget to enter it at the Fantastic Friday Giveaway Linky.
Please list name of blog, savings, name of store below.