SW Rimless Style #1196 Silver Frame with Smoke Lenses
Living in the sunshine state means that I have a need for wearing sunglasses all year round, but I was having a difficult time finding some that I liked within my budget. That was until Sunglass Warehouse came to my rescue, when they sent me a new pair of sunglasses. Sunglass Warehouse has a great selection of cheap sunglasses, but while the price is cheap the quality is not.
I received the SW Rimless Style #1196 Silver Frame with Smoke Lenses
Product information from Sunglass Warehouse: 
The sleek look of these small metal frames is a perfect compliment to any fashion statement. The rimless square lenses provide maximum UV protection.
Dimensions: (View Dimensions Diagram)
Eye: 37mm | Width: 132mm | Temple: 135mm
Eye: 1.5in | Width: 5.2in | Temple: 5.3in
Sunglass Warehouse Review
I love my new sunglasses, and I finally have a pair of sunglasses that I feel comfortable wearing. I have had them for almost two months, and they still look great, they have not shown any signs of wear, and most importantly they have not broken. The quality is great, and the best part is that they are affordable.
I used to be bothered by headaches from squinting my eyes, whenever I was out on the road with the kids, and thankfully my new sunglasses from Sunglass Warehouse has helped with this problem.

When it comes to sunglasses and purses I am extremely picky, and it takes me months (even years) to find the right sunglasses or purse for myself, so I was extremely surprised to discover how much I love my new sunglasses from Sunglass Warehouse. I was quite skeptical about the entire process of ordering sunglasses online, because I usually try on at least 100 pairs before I find a pair I like.
About Sunglass Warehouse
Sunglass Warehouse has a large selection of affordable sunglasses, and there many ways to find the perfect pair of sunglasses for you. You can search by men's or women's sunglasses, by style, by color or by type.
Sunglass Warehouse SW Cat Eye Style #61659
G
reat Things about Sunglass Warehouse:
UVA/UVB protection on all sunglasses
Huge selection of cheap sunglasses for every need
Free shipping over $25
365-day no hassle return policy
Money-back guarantee
Same-day shipping
What I missed at Sunglass Warehouse:
I wish that Sunglass Warehouse had a style guide, where you can see which glasses work for which facial features or facial shape.
You can read lots of great stuff, and find more great giveaways at the Sunglass Warehouse blog.
Buy It
You can buy lots of great cheap sunglasses at Sunglass Warehouse (http://www.sunglasswarehouse.com).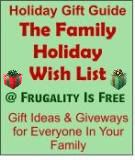 Win It:
Giveaway Closed: 
Giveaway Winners Will Be Announced Here
Sunglass Warehouse is generously giving away a pair of sunglasses to one of Frugality Is Free's readers as a part of the Holiday Gift Guide: The Family Wish List Series. 
This giveaway will end Tuesday December 16th at 10 p.m. EST.  

The giveaway is open to U.S. residents 18 years old or older. I will chose the winner via Random.org, and the winner will be notified by e-mail. Make sure to leave your email, or have your contact available on your blogger site. The winner will have 48 hours to respond, and if there is no response another winner will be chosen. 
Disclaimer: I received a pair of complimentary sunglasses for the purpose of this review and giveaway. I did not receive any monetary compensation, and the opinions expressed in above have not been influenced in any way by other than my own experience with the Sunglass Warehouse products.