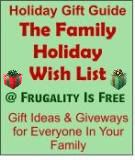 Cheryl from
Simply CVS
recently asked me to tell all of her readers about the great possibilities of blog giveaways, and I figured it would be great to share with all of you here at Frugality Is Free as well. As a
giveaway
host and a giveaway winner I personally know just how fantastic blog giveaways are, and entering blog giveaways has provided me with quite a few holiday gifts for my family this year.
My husband is in school full-time, which means that our household budget is extremely tight, and the holiday budget is basically non-existent. I am in charge of the holiday budget, and as a stay-at-home mom it means that I have to get creative when stretching the non-existent budget.
Blog Giveaway Win
One way that I make sure our Christmas tree will still sparkle with lots of gifts underneath for all three of my boys is by entering giveaways. Not just any giveaways, but blog giveaways! Of course I do not win them all, but I do win a lot. Some of my most recent wins include books, cds, dvds, a wooden toy box, toys, gift cards, coupons for free products and much much more.
From my own experience, and from analyzing the giveaway winners at my own giveaways at Frugality Is Free I have come to a few conclusions about the best way to win blog giveaways.
1. 2. Enter! If you don't enter, you cannot win!
2. Leave your email! (or make sure it is on your profile page)
3. Use those extra entries!
4. Check your odds!
5. Tweet, and tweet daily
6. Have a word document with your information for easy copy and paste
To explain a bit more about my above list.
Blog Giveaway Win
Since my time is very limited I have to be very choosy, when I decide to enter a giveaway. I usually set down an hour or two each week to enter as many giveaways as I can. I rarely enter giveaways with more than 1000 entries, but anything under 500 entries is great, and less than 100 means I have a great chance of winning. The one reason why I enter blog giveaways is that they are possible to win. Compared to giveaways hosted by big brand companies, where they might get thousands and most often more entries, the odds of winning blog giveaways are fantastic.
Giveaway Win
Most blog giveaways have bonus entries, make sure to take advantage these. Some bloggers complain about the extra entries, but I love them! Why? Because if I can get in 10 – 15 entries into a giveaway with 200 overall entries, my odds of winning are great. Sure, I could just do the mandatory entry, and maybe an extra entry or two, but if I do more my chances increase. If I enter a giveaway, it is because I want to win it, and I would rather put in 10 entries into a giveaway that I really want to win than 10 separate entries into 10 different giveaways that I am not completely excited about winning.
When entering giveaways I usually leave my link in the following formats: smartmomj[@]gmail[.]com or smartmomj at gmail dot com, this is done to prevent spam mail from spam bots. I have this format as well as other common entries such as listing facebook and twitter name in a word document that I can easily access, copy and paste from.
EXTRA: One very important part about entering giveaways is that your email information is available. Either leave your email (in the format above) in each entry, or have it available on your blog giveaway page. Do not just assume that your email is listed on your blog profile page, because it might not be. This week I ran into two giveaway winners, who did not leave an email in their entries, and their blogger profile was there but did not provide any contact information at all or links to their blogs. To make sure that your email is listed publicly, log out of your blogger account and go to your profile page. This way you will see, what everyone else is seeing, when they visit your profile.
To take advantage of daily tweets, I also have Daily Tweet document. There I list the giveaway, end date, link, tweet and my tweet info. This way I can easily tweet it out every day, and leave a comment with the tweet link on the post. I usually have about 5 – 10 giveaway tweets that I tweet out every day to get extra entries.
As a giveaway host, I have seen it work, and in fact I have two people who have both won several giveaways simply because they enter almost all of them, and they both do a lot of the bonus entries. Not only have they both won a bunch of great giveaways at Frugality Is Free, but very often it has been a close call. I use random.org to draw my giveaway winners (as do most giveaway hosts), and these two bloggers have had the comment before or after the winning commenter many times.
There is a very simple reason, why most bloggers have lots of bonus entries. It is because of giveaway entries that bloggers are able to host giveaways! To provide readers with great giveaways, bloggers have to give an incentive to potential sponsoring companies. If the companies know that they can get more twitter and facebook followers, more people to sign up for their newsletters and of course visit their websites, they are more likely to offer you (the giveaway winner) a great giveaway prize.
The same thing goes for the bloggers' own giveaway entries. As a blog giveaway host, I can tell you that I put a lot of time into the giveaway posts, contacting the companies, contacting the winners etc.. In most cases I get a product to review in connection with the giveaway, and in fact if I rarely accept a giveaway without a review product. The only exception is if the giveaway product(s) is awesome, and if I think my readers will love it. Just recently I accepted an offer of giving away 10 x $25 grocery gift certificates to my readers. I put in a lot of my own time into the giveaways, my own postage, and although I did not get any compensation for my time, I knew that the giveaway prizes would mean a lot to my readers.
If you find a great giveaway blog with lots of giveaways, it is most likely because they are trusted by their fellow bloggers and by the companies. An honest giveaway blog will have clear rules, show you proof of the winners, have a place where people can talk about their giveaway prizes, and work with several reputable companies. The best proof is if the blog post a screen shot of the winning random.org drawing.
Now, as a giveaway host and giveaway winner I know that the giveaway process is not always smooth. In fact I have recently had a couple of giveaway prizes not arrive to the winners, and after a bit of back and forth emailing these issues usually resolve themselves pretty fast. At the moment I am actually waiting for a great prize that I won in July but have not received. I have been persistent in contacting the blogger, and the giveaway host has been in contact with the company (a reputable company) numerous times. The last feedback was that it would get here by the end of December due to an error in the company supply.
So be excited about your giveaway wins, but don't count your chickens before the eggs have hatched. If you encounter a problem, make sure to go to the giveaway host, so that he or she can get the problem resolved. Do not start leaving comments on the blog (or elsewhere) about how you have not received your prize etc. – go to the source. Most giveaway prizes are shipped from the companies directly to the winners, so things can go wrong, but dealing with the companies is a part of the bloggers job. Having to deal with these issues can be a nightmare, but as a giveaway host I know how important it is to get the issue resolved.
As a SAHM on a tight budget, creativity is very important, when stretching my family's money. I live a very frugal life, but I do so queenstyle. I believe in the importance of family time, quality above quantity and living a green life. Entering and winning giveaways is just one way that I am able to live the life I envision for my family.
Where to find the giveaways:
Frugality Is Free:
Giveaway Linky Collection
(Find links to lots of other blog giveaway linkies)
The key to winning blog giveaways is simple:
The more you enter, the more you win! The more entries you put in, the greater your odds!
Do you enter blog giveaways?
What was the last giveaway you won?