The Tonka Strong Arm Fire Engine
The Tonka Strong Arm Fire Engine has arrived in Florida, and my house is now filled up with laughter, happiness, sirens and sparks.
As a mother of three boys the holiday time always means stocking up on batteries, because once Christmas Eve comes around the batteries will be needed. The Tonka Strong Arm is changing this problem, because it does not need batteries.
The Tonka Strong Arm is built to last, it is sturdy and yet it has technical features that only a mom or dad could have thought of. It has a multi-function trigger lever that makes a siren sound, lights a spark and raises the fire engine ladder – all without batteries. The beautiful, bright-red fire engine is sure to make little boys all over the country go crazy on Christmas morning, and I can almost promise that moms and dads will be down on the floor checking out the action too.

The multi-function trigger lever is a hit with my boys, and I tried to capture some of the action. Above you see my eight-year old pulling the lever and lighting up a spark, and below you see a close up of some of the spark action.
The Tonka Strong Arm Fire Engine Spark
The only problem I have with the Tonka Strong Arm Fire Engine is that all three of my boys want to use it at the same time. It is recommended from Ages 3 and up, but it is a hit with all three of my boys ages 15 months, 4 and 8 years old.
Great Things About The Tonka Strong Arm Fire Engine
It is battery free!
It is is sturdy and built to last.
It is full of action with the sparks that light up.
It has believable sound effects without being too much for parents to handle.
It teaches children cause and effect.
While the packaging provides safe transportation, no screw drivers are needed for unwrapping.
Did I mention that it is battery free?
The Tonka Strong Arms come in four different variations, and I am not the only one who is raving about the Tonka Strong Arms vehicles. The Tonka Strong Arms are the winner of the iParenting Award for Outstanding Product for 2009 and Dr. Toy's Guide just selected the Tonka Strong Arms as one of the 100 Best Children's Products for 2010.
Buy The Tonka Strong Arms
You can buy
The Tonka Strong Arm Fire Engine
and the other Strong Arm vehicles at Funrise Toys at
www.funrise.com
,
amazon.com
and at various toy retailers.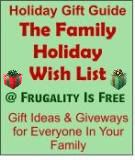 Win It:
Funrise Toys is generously giving away a Tonka Strong Arm Fire Engine to one of Frugality Is Free's readers as a part of the Holiday Gift Guide: The Family Wish List Series.
How to Enter
Visit
Funrise Toys
and come back to tell me what Tonka Strong Arm you would choose, if you had a choice. – 1 Entry (Leave 1 comment)
Mandatory entry must be done in order for any bonus entries to count.
Bonus Entries
Giveaway Has Ended –
Giveaway Winners Will Be Announced HERE
This giveaway will end Thursday December 9th at 10 p.m. EST
.



The giveaway is open to U.S. residents 18 years old or older.

I will chose the winner via Random.org, and the winner will be notified by e-mail. Make sure to

leave your email

, or have your contact available on your blogger site. The winner will have 48 hours to respond, and if there is no response another winner will be chosen.
Disclaimer
:
I received a complimentary Tonka Strong Arm Fire Engine for the purpose of this review and giveaway. I did not receive any monetary compensation, and the opinions expressed in above have not been influenced in any way by other than my own experience with Tonka's products.


** Images copyright Sunrise Toys and Frugality Is Free