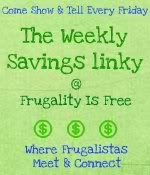 It is time to post your grocery savings at the weekly savings linky, so come link up your savings. Are you the Top Frugalista, who won a feature and a free ad space?
********************************************************
EXTRA BONUS
I have a special surprise for all my frugal blogging friends, because over the next two months I will be giving away ten (yes 10!) ALDI gift certificates to Frugality Is Free's readers in honor of ALDI finally opening stores in South Florida.
Today I announced the first giveaway, and 5 readers will win a $25 ALDI gift certificate. If you link your weekly savings post up, you get an extra entry into the ALDI giveaway. Make sure to leave a comment on the giveaway post to get your extra entry.
*********************************************************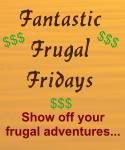 I would also like to invite all of you to link up your frugal posts (no grocery savings posts) at the Fantastic Frugal Fridays blog party. You will also earn an extra bonus entry into the ALDI giveaway from linking up your frugal posts.
---
The savings lingo:
BOGO: Buy One Get One Free
MF: Manufacturer's coupons
PC: Public Store Coupons
TC: Target Store Coupons (Competitor coupon)
Publix:
2 x College Inn Broth on BOGO sale at 2 for $2.49 – (2 x $0.75 MF) = $0.99 (0.50 each)
3 x 2 L Diet Coke Buy 2 get 1 Free = $3.58 ($1.19 each)
3 x Bush Grilling Beans @ 3 for $5 –(3 x $1 MF) = $2 ($0.67 each)
6 x Welch's juice on BOGO sale @ 2 for $3.25 = 6 for $9.75 – (6 x $1 MF) = $3.75 ($0.63 each)
8 x V8 Splash on BOGO sale @ 2 for $3.29 = $13.16 – (4 x $1 off 2 MF) = $9.16 ($1.15 each)
4 x Smart Balance Lactose Free Milk @ $3.59 = $14.36 – (4 x $1 PC and 2 x $2 MF) = $6.36 ($1.59 each)
2 x Honey Bunches of Oats on BOGO sale at $3.99 –
4 x Yoplait Fiber One yogurt on BOGO sale at 2 for $2.50 = $5 – (4 x $0.50 MF) = $3 ($1.50 each)
2 x EDY's ice cream on BOGO sale at 2 for $5.29 – (2 x $1 TC) = $3.29 ($1.65 each)
2 x Ocean Spray Craisins trail mix on BOGO sale at 2 for $2.29 – (2 x $1 MF) = $0.29 ($0.15 each)
6 x Krusteaz cookie mix on BOGO sale at 2 for $2.19 = $6.57 – (6 x $1 MF) = $0.57 ($0.10 each)
2 x Idaho mashed potatoes on sale at $1 each = $2 – (2 x $1 MF) = FREE
Nutella on sale for $3 – $0.75 MF = $2.25
Sabra hummus $2.50
Publix lemonade $2.99
Publix OJ $4.49
5 lb potatoes $2.49
3 lb Florida tangerines $2.50
1 Cucumber $0.50
2 lb carrots $1.69 – $1 TC = $0.69
3 lb apples $1.99
Grape tomatoes $2
– 2 x $3 PC
Out of pocket $57.50
Total saved $103
Target
Ice Berg Lettuce $1.49 – $1 TC = $0.49
JC Penney
2 uniform shirts on clearance $5.05 = $10.10 plus tax – $10 off $10 coupon = $0.19 after tax
Thank you to I Heart Publix, for helping me with my grocery savings.
***************************************************
The Top Frugalista This Week Is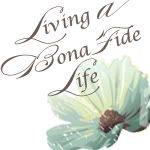 Living a Bona fide Life
is written by Courtney, and Courtney has been doing a lot of shopping in her freezer lately. She did make a trip to the grocery store, but she spent less than $30. Courtney is a frugalista all around, and she is actually featured twice at Frugality Is Free this week. Not only is she the
Top Frugalista
at the
Weekly Savings Linky, but she is also the Frugal Expert at Fantastic Frugal Fridays.
*********************************************************************
Each week I will be featuring a Top Frugalista here at Frugality Is Free, and the Top Frugalista will get the second spot in the linky and a free ad space at Frugality Is Free for a week. I will use random.org to draw the winner.

Top Frugalista Rules
1. Add the Weekly Savings Linky button to your post or sidebar.
2. Extra entry: Tweet about the Weekly Savings Linky

Example tweet:
Link up your savings posts at the Weekly Savings linky @ Frugality Is Free. http://tiny.cc/bzqln Enter to become the Top Frugalista too!
***Let me know in the comment field below if you have done any of the above
to make sure that your entry is counted***
*(Adding the button or posting about the Weekly Savings linky is not mandatory for linking up at the Weekly Savings Linky. It is simply a way to get entries into the Top Frugalista drawing. While it is not mandatory, or necessary, it is highly appreciated, as it helps grow our frugalista network and thereby get more views to your weekly savings posts.)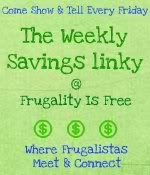 For more places to link up your savings check out the Weekly Savings Linky Collection, and if you have a giveaway on your blog don't forget to enter it at the Fantastic Friday Giveaway Linky.
Please list name of blog, savings, name of store below.