Now that Aldi is open in South Florida I plan to go there at least every two weeks, to get the items there that I usually pay more for at Target or Publix.
I have made a price comparison list between the prices at Aldi, Target and Publix to keep track of the price differences on staples that I cannot usually get coupons for.
Large eggs 12ct $0.69
Large eggs 12ct $0.69
Large eggs 12ct $0.69
Large eggs 12ct $0.69
Chicken thighs $3.87
Potato Puffs $1.79

Crinkle cut potatoes $1.79
1/2 gallon OJ $2.39
1/2 gallon OJ $2.39
Hot Dog buns $0.79 ($
Whole wheat mini bagels $1.89
Red onions $1.79 ($1.79)
Bananas $0.90 (0.90)
Plaintains 4 for $1
Celery $0.79
10 lb potatoes $1.69
$23.94
If I had bought all of the above at the best prices at Publix or Target, I would have spent about $34 leaving me with a savings of $10+. Now, I am going to keep a close eye on the prices, and then evaluate in a month or two, whether it is worth going to a different store to save. I still think that if you do not use coupons at all, then you will save a lot more at ALDI than anywhere else. For coupon users, there are only certain items that will be cheaper.
I was hoping to stock up on cheap orange juice, but unfortunately the price on OJ went up since my last visit to ALDI.
I want to remind everyone about two great giveaways I am hosting here at Frugality Is Free.
ENDS TONIGHT at 10 PM EST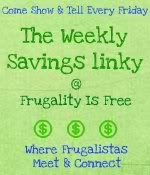 You can link your grocery savings below. To find out more details on how to win a free ad space at Frugality Is Free check out the at the Weekly Savings Linky post.
I would love to hear how you did on your savings this week?
Please list name of blog, savings, name of store below.