Welcome to Follow Us Monday Morning– I am so happy that you made it here at the Monday blog hop. This is where bloggers start off the week with a little meet and greet, have a little conversation and expand our blogging networks.
I would like to introduce you to the Us in Follow Us Monday Morning, my cohost Bridget aka Cheekymommaof2 from Being Frugal and Making It Work.
I would also like to thank all of you who have followed from the beginning, and I would like to welcome any new participants in Follow Us Monday Morning.
**********************************************
The Hot Blog of The Week is: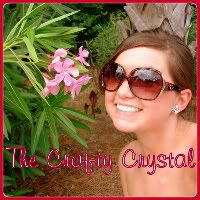 The Crafty Crystal is written by Crystal, who is a recent college graduate. She loves all things crafty, and at the Crafty Crystal she shares all of her crafts, ideas, thoughts about life and more.
Crystal has been sharing lots of Christmas crafts on her blog, so if you need a little inspiration, it is a great place to stop by.





Congratulations The Crafty Crystal!
**********************************************
Follow Us Morning Feature BONUS!!!
As a bonus, the Follow Us Morning Featured blogger will win a
FREE
ad space for a week at Frugality Is Free.

Tip:
The best way to gain more followers during a blog hop is by following others first, and leaving a link back so that they can easily find you. So don't forget to let someone know, if you are following their blog. One way to do this is by commenting and leaving your clickable blog signature (see below).


To participate:
Answer the Follow Us Monday Morning question (in the comment area or in a post) and post the button in your post. This is not mandatory, but it sure is appreciated, as it will help spread the word.
Follow

Frugality Is Free

Follow Being Frugal and Making It Work.
Follow the Hot Blog of the Week
Follow the Blog listed before you
Answer the Follow Us Monday Morning Question.
Follow as many other blogs as you wish, and please follow those who visit you back.
Link your blog post in the Follow Us Monday

Morning

linky
Please follow back!!!
***
Question of the Week
***
Question of the Week: Do you have any holiday traditions that are very specific to you family or your family's culture/heritage?
My answer:
My family is very culturally mixed, but since my oldest son and I spent his first five Christmases in Denmark with my family, we are celebrating Christmas the traditional Danish way that my family always did. We celebrate on Christmas Eve, with a semi-Danish Christmas dinner, dancing around the Christmas tree and opening gifts. The 25th I leave up to my husband, and he usually cooks a traditional Jamaican Christmas meal.
***
***
Blog about Follow Us Monday Morning (leave direct link)

*

Post the Follow Us Monday Morning button in your sidebar (leave direct link)

*

Tweet about the Follow Us Monday Morning Blog Hop (leave direct link)

*
You can tweet the following or make up your own tweet:
Tweet: I'm participating in this week's Follow Us Monday Morning blog hop, come link up too & expand your blogging network http://tiny.cc/mg8bz.




*If you do any of the above, please leave a link and let us know in the comment field, otherwise your entry might not be counted.



If you are looking for more places to link up, you have come to the right place. In my top navigation bar you will find a wealth of places to link up. Check out the Blog Hop Linky Collection, the Art, Craft, Tablescape and Food Linky Collection and the Savings Linky Collection for places to link up and expand your blogging network every day of the week.