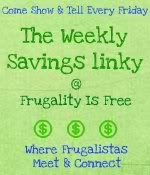 Come post your grocery shopping deals and grocery savings at the weekly savings linky here at Frugality Is Free. Frugality Is Free is all about frugal living, and every week frugal shoppers from all over the country come to link up their frugal grocery shopping deals.
How much did you save on your groceries? The Top Frugalista wins a feature and a free ad space every week.
********************************************************
or you can win coupons for free potatos…
*********************************************************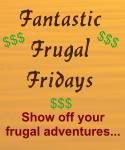 Since you are here, you are obviously all about
frugal living
, so I would like to invite all of you to link up your frugal posts (no grocery savings posts) at the
Fantastic Frugal Fridays
blog party. You will also earn an extra bonus entry into the ALDI giveaway from linking up your frugal posts.
---
My Grocery Savings
I actually got my grocery shopping done early this week (or perhaps it was late), as I went grocery shopping Sunday morning (oh how peaceful it was), and then I made a stop at Aldi on Wednesday, since I had to go exchange some socks close by.
I have been working on a comparison shopping list between Aldi, Publix and Target on the regular groceries that I usually buy the store brand off, since it is the cheapest.
You can find it here:
Grocery comparison shopping list.
My Grocery Shopping at Publix
8 x Welch Grape Juice 64 oz on BOGO sale at 2 for $3.99 = $15.96
– (8 x $1 MF) = $7.96 ($1 each)
2 x Healthy Choice Entree on sale @ $2 = $4
– $1 MF = $3 ($1.50 each)
1 x Healthy Choice Cafe Steamers on sale at $2.50
– FREE coupon = FREE
6 x Smart Balance Lactose Free Milk on sale at $2.50 each = $15
– (2 x $2 MF, 1 x $1 MF and 1 x $0.75) = $9.25 ($1.54 each)
5.7 lb Publix Boneless Chicken Breast @ 1.99/lb = $11.36
(Saved $13.09)
2 x General Mills Honey Nut Cheerios on sale @ $1.99 = $3.98
– (2 x $0.55) = $2.88 ($1.44 each)
3 x Green Giant Frozen Vegetables on sale at $1 each = $3
– (1 MF) = $2 ($0.67 each)
2 x Country Crock spread on BOGO sale @ 2 for $1.99 ($1 each)
Publix OJ 1 gallon $4.89
Publix whole wheat bread $1.69


Publix Deli Lemonade 1 gallon $2.99
Publix Foil on sale @ $0.97
I used a $5 off $50 Publix Coupon
I used a $5 off $30 Winn Dixie (Competitor) Coupon
I spent a total of $39.39
I saved a total of $74.91


***************************************************
The Top Frugalista Of The Week Is
Holly at
CentsAble Stewardship
is all about frugality, and she believes in being Frugal without being Cheap. Holly wants to help you be frugal too, and she will teach you how to shop effectively with coupons and stretch your money.
*********************************************************************
Each week I will be featuring a Top Frugalista here at Frugality Is Free, and the Top Frugalista will get the second spot in the linky and a free ad space at Frugality Is Free for a week. I will use random.org to draw the winner.
'

Top Frugalista Rules
1. Add the Weekly Savings Linky button to your post
1. Add the Weekly Savings Linky post to your sidebar.
2. Tweet about the Weekly Savings Linky
(1 entry each, make sure to let me know, if you have done any of these)
Link up your savings posts at the Weekly Savings linky @ Frugality Is Free. http://tiny.cc/bzqln Enter to become the Top Frugalista too!
***Let me know in the comment field below if you have done any of the above
to make sure that your entry is counted***
*(Adding the button or posting about the Weekly Savings linky is not mandatory for linking up at the Weekly Savings Linky. It is simply a way to get entries into the Top Frugalista drawing. While it is not mandatory, or necessary, it is highly appreciated, as it helps grow our frugalista network and thereby get more views to your weekly savings posts.)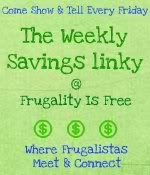 I would love to hear how you did on your savings this week?
Please list name of blog, savings, name of store below.