Today I finally got a chance to visit one of the three new ALDI stores in South Florida, and I was not disappointed. I did not get to do much shopping, as I had to take the bus home with my three boys, but I did get to do a lot of price comparison between ALDI and my regular grocery stores. I will post my list soon.
Besides visiting ALDI, I also needed to find my last Christmas present, before I ship them off to Europe. We were supposed to start out at Old Navy, but it apparently closed down, since I was there a few months ago, so we started out at Target instead. In my search for ALDI, my sons and I walked around a shopping plaza, and we discovered both a produce market, and and Indian store. The Indian Store was a real bonus, as I have been looking to get new spices for a long time.
Since my family has been sick all week, our fridge is pretty full, so I just bought a few things that I knew I could not find at a better price at our regular store. I sure wish I could have bought eggs (1 dozen $0.69), milk (1 gallon $1.99) or OJ (64 oz at 1.79), but with 3 boys, 1 shopping bag was enough, and I knew the eggs would never make it home.
At Target
Free Hungry Hippos at Target
I bought a Christmas present that I won't mention.
2 x Hungry Hippo games @ $4.99 each = $9.98 – 2 x $5 Printable Coupons = FREE
Thank you to Being Frugal and Making It Work for the tip.


At ALDI
Grocery Shopping at ALDI
Bananas $0.90 ($0.39/lb)
Green peppers $0.99
Granny Smith apples 3 lb $1.39
Potato chips 1.29
Tortilla chips $1.19
2 Avocadoes $0.98
Haribo gummi bears $0.89 x 3 = $2.67
Salsa $1.69
2 x Whole canned potatoes (For a Christmas Eve dish) $0.59 each = $1.18


After taxes I spent $14.83 at ALDI
Indian Spices
At the Indian Market

Paprika $2.59
Coriander powder $1.99
Garam Masala $2.99
3 x Shan Masala spice mixes @ $0.89 = $2.67
Total after tax $10.24


I spent $4 at the Produce Market
I want to remind everyone about two great giveaways I am hosting here at Frugality Is Free.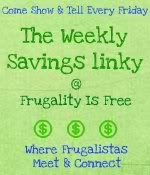 You can link your grocery savings below. To find out more details on how to win a free ad space at Frugality Is Free check out the at the Weekly Savings Linky post.
I would love to hear how you did on your savings this week?
Please list name of blog, savings, name of store below.