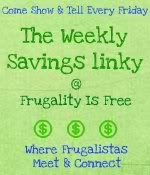 Come post your grocery shopping deals and grocery savings at the weekly savings linky. How much did you save on your groceries? The Top Frugalista wins a feature and a free ad space every week.
********************************************************
EXTRA BONUS
In honor of ALDI finally opening stores in South Florida, I am hosting a great ALDI giveaway. You get an extra entry just for linking up below, but makes sure to let me know that you did on the giveaway post for your entry to count.
*********************************************************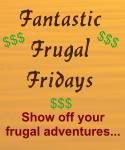 I would also like to invite all of you to link up your frugal posts (no grocery savings posts) at the Fantastic Frugal Fridays blog party. You will also earn an extra bonus entry into the ALDI giveaway from linking up your frugal posts.
---




My Grocery Savings
This week has been a very frugal one, but I have not gotten any grocery shopping done at all. Last Friday my four-year-old son brought a stomach virus home from pre school, and by Sunday afternoon I had three very sick boys, and I had gotten the virus myself. Monday morning my husband decided to participate in our sick run, and we are still trying to pick up the pace again. My four-year-old has been home all week, and my eight-year-old has only been to school twice this week.
Because neither of us had much of an appetite, our fridge is still booming. I considered going shopping today, but I still do not have the energy level needed, so hopefully I will get to go and pick up a few things tomorrow.
The only shopping I did this week was through my husband and through the mail man.
My husband picked up free diapers at CVS (after CVS bucks and coupons) (Saved $21)
The day after we got the diapers, I got 2 packs of diapers in the mail to test.
My husband picked up ink at Office Depot – For Free – I had a $10 off coupon, and I used a $40 gift card I had gotten from TwitterMoms (Saved $43)
***************************************************
The Top Frugalista Of The Week Is
This is the first time that Marsha linked up at the Weekly Savings Linky. Marsha is a very frugal shopper, and she is especially great at Walgreens' shopping. If you have not done so already, I encourage you to stop by her post about last week's Walgreen's shopping, as she did fabulous.
At

Marsha's Spot

, Marsha writes a little bit about everything. She does a lot of crafts, and she knows her way around the online earnings world.
I encourage all of you to stop by Marsha's Spot to see what kind of frugal things she is up to.
*********************************************************************
Each week I will be featuring a Top Frugalista here at Frugality Is Free, and the Top Frugalista will get the second spot in the linky and a free ad space at Frugality Is Free for a week. I will use random.org to draw the winner.
'

Top Frugalista Rules
1. Add the Weekly Savings Linky button to your post or sidebar.
2. Extra entry: Tweet about the Weekly Savings Linky

Example tweet:
Link up your savings posts at the Weekly Savings linky @ Frugality Is Free. http://tiny.cc/bzqln Enter to become the Top Frugalista too!
***Let me know in the comment field below if you have done any of the above
to make sure that your entry is counted***
*(Adding the button or posting about the Weekly Savings linky is not mandatory for linking up at the Weekly Savings Linky. It is simply a way to get entries into the Top Frugalista drawing. While it is not mandatory, or necessary, it is highly appreciated, as it helps grow our frugalista network and thereby get more views to your weekly savings posts.)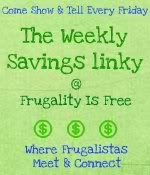 For more places to link up your savings check out the Weekly Savings Linky Collection, and if you have a giveaway on your blog don't forget to enter it at the Fantastic Friday Giveaway Linky.
REMINDER: Don't forget to enter to win money for your holiday groceries:
I would love to hear how you did on your savings this week?
Please list name of blog, savings, name of store below.