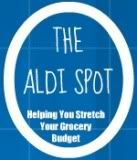 I recently launched The Aldi Spot, where you can find Aldi deals, shopping tips, aldi price comparisons with Target, Publix and Walmart as well as product features, unadvertised price changes, simple, cheap Aldi recipes and more.
I would like to invite all of you to come check out The Aldi Spot, and while you are there, don't forget to check out the first giveaway.
Amazon GC Giveaway @ The Aldi Spot
Hot Aldi Deal: This week Aldi has Pineapple for $1.69 and 4 lb of oranges for $1.19.
I was finally able to get a ride home from Aldi this week, which means I stocked up big time.
Can you guess how much I spent on all of the above produce?
I bought 10 lb of potatoes
4.65 lb of bananas
8 lb of oranges
6 lb of apples
lettuce
2 green peppers
1 cucumber
1 pineapple
If you are curious, check out my Aldi Shopping Trip to see how much I spent on the above produce.