l
Backyard X-Scapes Reed Fence
Living in the city comes with many pros and cons, and one of them is the lack of privacy. My family lives in the corner of a small neighborhood roundabout, and as a result both our front- and our backyard is bordering to a street. When we moved here, I was just happy to have a place with calm neighbors, and over time I managed to create a small vegetable and herb garden. However, no matter how hard I tried I could never get used to having a backyard right out to the street, where people would almost be walking in our yard. This is why I decided to try out the Backyard-X-Scapes Reed Fence from CSN Stores (Now Wayfair).
Since we are renting, we cannot put up a permanent fence, and the Backyard X-Scapes Reed Fence was a semi-permanent alternative, as it can easily be taken down. Because we did not have a permanent fence to put it up against, my husband created a frame for it, and he cemented one of the poles.
After reading several reed fence reviews, before I put in the order with CSN Stores, I came to the conclusion that I would need to double up the reed fence in order for it to give the desired privacy. After putting up the Backyard X-Scapes Reed Fence, I am relived that I ordered two sets, since it was still possible to see through the one reed fence. Even with the two reed fences together, you can still see the shape of car going by when looking out at the street, but for some reason the fence cannot be looked through from the outside.
Before
After
Backyard X-Scapes Reed Fence
Above you see the view from our back yard and into the street. My kids can now play in their play tent, the sand box and even the kiddie pool without even realizing that anyone is walking by on the sidewalk. The difference is enormous, and our neighbors have started asking about getting a reed fence up of their own.
Backyard X-Scapes Reed Fence view from the street.
The best part about the Backyard X-Scapes Reed Fence is that my family can now be out in the backyard without the entire neighborhood watching our every move. I absolutely love the privacy that the reed fence gives, and it is a perfect back drop for our plants. I love how the Backyard X-Scapes Reed Fence is creating a perfect natural look that goes well with our mango, avocado and lemon trees as well as with our tropical plants, and I am eager to see what it will look like once the flowers start growing.
I had originally hoped that we could put up the reed fence on the outside of my small vegetable and herb garden, but it was impossible to dig there, due to a hidden cemented area, and my husband opted to put it on the inside of the gardening bed.
Tomatoes with flower buds against the Backyard X-Scapes Reed Fence
As a result I am now trying to create a small gardening bed on the inside as well, but my husband has been putting down new sprinklers, so I have not been able to do much progress yet. At least some of my tomato plants have found a new home, and I even have both pepper plants and tomato plants with flower buds on.
My Final Opinion of the Backyard X-Scapes Reed Fence :
The Backyard X-Scapes Reed Fence is a great solution if you need a semi-permanent fence, but you need something to attach it to (such as a chain-link fence or a frame). I am very happy with the result in our backyard, and I am seriously considering ordering two more reed fences from CSN Stores for the other side of our backyard.
I do recommend that you double the reed fence up, if you intend on using the Backyard X-Scapes Reed Fence for privacy purposes, as it can otherwise be seen through. I have not had the fence up long enough for me to give any review on the longevity of the Backyard X-Scapes Reed Fence, but I will update this review as time progresses. So far the Backyard X-Scapes Reed Fence is holding up well to our South Florida winter, which is mostly dry with little rain and at times strong winds.
Pros:
A great alternative to a permanent fence
It can be taken down, when a hurricane is on the horizon.
Gives a great natural and tropical look
Is great for creating privacy (when doubled up)
Can help hide a deteriorating fence and spruce up the outside of your home.
Can be attached to a chain link fence.
The height is great.
Cons:
You need to double up the reed fence to use it for privacy reasons.
You need to attach the reed fence to a permanent fence or make a sturdy frame for it.
I'm not sure how well it holds up against hurricane and tropical storm force winds.
Backyard X-Scapes Reed Fence Features
(Information from CSN Stores/Wayfair)
Peeled Reed Fencing
Constructed from fresh water reed grown along riverbanks and wetlands
Aesthetically pleasing and eco-friendly, but it also functions to add texture to an otherwise one-dimensional setting
To promote durability and longevity, our Peeled Reed Fencing comes pre-assembled and is woven with durable, vinyl-coated wiring
As a lightweight product, Peeled Reed Fencing is often a viable solution when seeking to cover old
Whether you are looking to add privacy to your backyard or hoping to achieve a natural island look
Peeled Reed Fencing is certainly an environmentally-friendly option to consider
Using natural resources as a way to accent your home not only beautifies your landscape, but it also protects and preserves our environment
Overall dimensions: 72″ H x 192″ W
My CSN Stores Experience
I have ordered from CSN Stores on numerous occasions, and they have always sent my orders promptly. I have never had any complaints about the products I have received from CSN Stores, and the one time I needed to get in touch with customer service I received great customer service.
The Backyard X-Scapes Reed Fences arrived in less than a week, in great packaging and the products were in perfect condition.
You can buy the Backyard X-Scapes Reed Fence at CSN Stores. It is currently on sale with free shipping, and if you find it cheaper somewhere else, CSN stores will price match.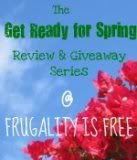 I am reviewing the Backyard X-Scapes Reed Fence from CSN Stores as a part of the
Get Ready For Spring
review and giveaway series here at
Frugality Is Free
.
Other CSN Stores Reviews:

The Englacha Stroller Board
Play Hut Firetruck Play Tent, Camera Tripod
*Disclaimer: The  Backyard X-Scapes Reed Fence was partly paid for through a gift certificate from CSN Stores, but I was not otherwise compensated for this review. My opinion has not been influenced in any way, and the opinions expressed in this review are entirely my own based on my experience with the Backyard X-Scapes Reed Fences . While this is my opinion of the product, someone else might have a different opinion.
** The images used in this review are copyright JRFrugalMom/Frugality Is Free. If used, please leave a link back.