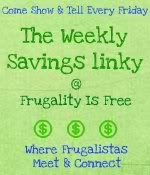 Share your grocery savings posts at the weekly savings linky here at Frugality Is Free. Frugality Is Free is all about frugal living, and every week frugal shoppers from all over the country come to link up their frugal grocery trips deals.
The Top Frugalista wins a feature and a free ad space every week.
My Grocery Savings
Oh my what a shopping week! I have been doing a lot of shopping, and a lot of walking this week.
Monday
I took my kids to the outlet mall, as it was raining and they needed to get out. We made a quick stop at Walmart and Target.
Wednesday I went to our local Target and Publix, and while we were inside Publix the jewelry store next door was robbed. We were only in there for about 30 minutes, and we had to walk a different way back because there were police everywhere.
We had been in a hurry to get out of the house in the morning, because my husband decided last minute to drop us off at the shopping plaza before he went to school, which meant I was completely unprepared. I had forgotten my cell phone and my key,which wasn't smart, and we had to walk 2 miles home with the groceries, only to have my four-year-old climb in a window to unlock the doors….crazy mom! We quickly had lunch before we had to walk run to my youngest son's school (another 2 1/2 miles), and the rain was catching up.
Wednesday afternoon I picked up my oldest son from school at 2 p.m., and then we caught the bus to another Target and Aldi.
So yes it has been an eventful week, and I shopped more than usual, but I have been below budget for several weeks, so it was time to stock up on the staples. Since my husband could finally pick us up, I made sure to buy LOTS.

My Target Deals:
At Target I spent $40 and saved $46

My Aldi Deals: Spent $40 (Saved $22)
Walmart Deals:$9.28
(Saved Nothing – See Walmart Price Comparison)
My Publix Deals: $27.95 (Saved $41.32)
Publix Groceries Saved $41 Spent $28
MF: Manufacturer's Coupon
TC: Target Coupon
PC: Publix Coupon
WD: Winn Dixie Coupon
BOGO: Buy One Get One Free
Publix Grocery Shopping Trip
6 x Lenders Bagels on BOGO sale @ 2 for $2.09 = $6.27 ($1.05 each)
2 x Starkist Tuna on BOGO sale @ 2 for $3.97 ($1.99 each)
2 x Stouffer's French Bread Pizza on BOGO sale @ 2 for $2.95 ($1.48 each)
Kraft Shredded Cheese on sale @ $2
– $0.75 TC = $1.25
Kraft White Amr. Cheese Singles on sale @ $2 – $1 PC = $1
Lactaid whole milk
$3.89
– $1 MF =
$2.89
Planters Cashews on BOGO sale @ 2 for $6.29
– (2 x $1 TC) = $4.29 ($2.15 each)
2 x Glad ForceFlex Garbage Bags on sale @ $5.49 = $10.98
– (2 x $3 MF Glad Coupon and 2 x $1 TC) = $2.98 ($1.49 each)
2 x Johnson & Johnson Bubblebath @ $3.99 each = $7.98
– ($3 PC and 2 x $1 MF and $1 WD) = $1.98 ($0.99 each)
Total spent @ Publix $27.95
Total Saved @ Publix $41.32
Total spent on groceries this week $106 for a family of 5
Total saved on groceries this week $109.32
Total spent this week including groceries and gifts $117.23
Total saved this week including groceries and gifts $109.32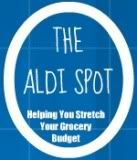 Check out the Aldi spot for a Price Comparison List between Aldi, Target, Publix and Walmart.
You can also find lots of great printable coupons at my coupon database My Best Printable Coupons.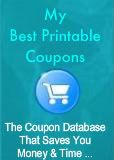 ***************************************************
The
Top Frugalista

Of The
Week Is

Being Frugal and Making It Work
is written by Bridget, a SAHM of two, mom blogging, supersaving frugalista, who not only knows how to save, but knows how to win and earn money from home as well. Bridget rarely, if ever, pays full price for anything, and she knows how to stretch her buck very far.
*********************************************************************
Each week I will be featuring a Top Frugalista here at Frugality Is Free, and the Top Frugalista will win a free ad space at Frugality Is Free for a week.
'

Top Frugalista Rules
1. Add the Weekly Savings Linky button to your post
1. Add the Weekly Savings Linky post to your sidebar.
2. Tweet about the Weekly Savings Linky
(1 entry each, make sure to let me know, if you have done any of these)
Link up your savings posts at the Weekly Savings linky @ Frugality Is Free. http://tiny.cc/bzqln Enter to become the Top Frugalista too!
***Let me know in the comment field below if you have done any of the above
to make sure that your entry is counted***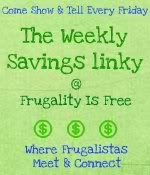 Thank you I Heart Publix for helping me stretch my dollar at Publix.
I would love to hear how you did on your savings this week?
Please list name of blog, savings, name of store below.