When I first discovered the ZipBins from Neat-Oh!, I thought they were absolutely genius, and I knew that the ZipBins would be a hit at my house. Sure enough, when the Small Town Toy Box and Play Mat ZipBin arrived at my house, it was cause for much excitement.
With three boys in the house, there can never be enough organization or storage, and somehow even with lots of storage, I still end up with cars, tractors, dinosaurs etc. all over the house. My four-year-old has always been very fond of his small hot wheel cars, and although I have provided him with lots of boxes, the small cars just never found their permanent space, and although he has plenty of cars, it seems as if he can never find any.
The Small Town Toy Box and Play Mat ZipBin from Neat-Oh! was the solution I had been searching for, and not only do my son's cars finally have a place that he can proudly call their home, I no longer have to be searching all over the house for his cars, and my husband no longer steps on Hot Wheels cars at night.
Let me show you, why I am so excited about the Small Town Toy Box and Playmat ZipBin from Neat-Oh!
Zip Bin Classics: The Small Town Toy Box & Play Mat Zip Bin
The inside of the ZipBin lid has see through pouches for small toy cars.
Unzip the corners to transform the toy box into a play mat.
Get ready to play on the Zip Bin Small Town Play Mat
When the kids are done playing, they can easily fold up the Zip Bin Play Mat, zip it back up and turn it back into a Toy Box.
What I love About the ZipBins from Neat-Oh!
ZipBins are multifunctional

ZipBins make cleaning up fun

There is a ZipBin for every need and every want.

ZipBins are easy to clean

ZipBins are sturdy and wellmade

ZipBins come in small, medium or large.

You can get ZipBins as backpacks, hand bags, beach bags and other fun storage products.
About Neat-Oh!
Neat-Oh! was founded by Wayne Rothschild, after he put his head together with his ten-year-old son Max to come up with a solution for messy toys. The ZipBin was the result, and since 2006 the ZipBin brand has won 46 awards.
 Buy A ZipBin
The Small Town Toy Box and Play Mat ZipBin from Neat-Oh! comes with two small cars. It can be bought at www.neat-oh.com, and so can all the other ZipBins.
Win It:
Neat-Oh! is giving away a ZipBin (Winner's Choice) to one of Frugality Is Free's readers as a part of the Get Ready For Spring Event.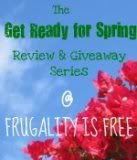 How To Enter:
Giveaway Closed: 
Winners Will Be Announced at the Winner's Page.
1st Mandatory Entry 

(1 entry)
Visit
Neat-Oh!
's website,and
come back
and tell me which ZipBin you would like to have, if you won this giveaway.
This giveaway will end Wednesday February 23rd at 10 p.m. EST
.  
The giveaway is open to U.S. residents 18 years old or older.
I will chose the winner via Random.org, and the winner will be notified by e-mail. Make sure to

leave your email

, or have your contact available on your blogger profile. The winner will have 48 hours to respond, and if there is no response another winner will be chosen. 
Disclaimer: I received a complimentary Small Town Toy Box Play Mat ZipBin for the purpose of this review and giveaway. I did not receive any monetary compensation, and the opinions expressed above have not been influenced in any way by other than my own experience with the Zip Bin products and the Neat-Oh! website.