I have been doing a lot of shopping these past two weeks, but I have been under my grocery budget for two weeks now. Today I wanted to stop by one of our local South Florida Target stores to get an update on the Target toy clearance sale. While we were walking across the parking lot, I scouted a Target coupon on the ground, and what a surprise when I realized it was for a FREE Mist soda.
My Final Weekly Spending and Grocery Savings
I spent $0.72 and saved $7.09 (2nd Trip)
Total spent this week $42.67 for a family of 5
Total saved this week $132.08
(The above total included 1 birthday gift and $6 on decorations)
This is what I bought today:
Mist Natural $1.25 – $1.25 TC = FREE
Ribbon reg. $2 was on clearance at $0.20
Gift bows reg. $4 was on clearance at $0.40
Total spent after tax $0.72
Total saved $7.09
Target Clearance Update (South Florida store)
There was still a small section left of the 90 percent off sale, and there were a few things that I had not been able to find at the other South Florida Target store a few days ago. I was tempted to pick up more wrapping paper, but I soon realized that it would be a nightmare to carry kids and wrapping paper onto the bus.
I checked out the Target toy clearance sale, and while the signs in almost every department still said 30 percent off, about half of the clearance items rang up at 50 percent off.

Target toy clearance 75 percent off:
Wooden food toys
Target toy clearance 50 percent off:
There was a lot of Lightning McQueen items at 50 percent off,
Liv dolls at 50 percent off,
My Little Pony items
Target toys (food items, tools sets etc)
Lego sets
Hello Kitty walkie talkies
Target toy clearance 30 percent off:
Lego duplo and lots of other toys and games
Other clearance at Target:
90 percent off
Holiday Items: Bows, ribbon, wrapping paper, ornaments dog and cat holiday stuff.
75 percent off
A few non-brand name cleaners
50 percent off at Target:
Toy Story 3 Comforter twin size (see below)
Wash towels
Swim gear, snorkeling gear etc.
30 percent off
Holiday storage items:
Household items
Holiday products such as glade and febreeze products
Curtains and curtain rods
Some kids bike helmets
Lots of 30 percent off throughout the store
Toy Story 3 Comforter twin size on clearance at $14.54 was $29.09
While I am scouting for gifts for the coming years birthdays and Christmas, I want to hold off until it hits 75 percent off clearance sale at Target.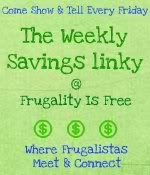 Come participate in the Weekly Savings Linky, and you could win a free week's ad space here at Frugality Is Free.
You can link up your grocery savings below: