Raised Garden Bed from Plow & Hearth
As a city girl, who grew up on a farm, I have a big love for gardening, and I am on a mission to make the most of my very small urban South Florida garden. The backyard is minuscule, but I am determined to succeed, and every now and then I add new fruits and vegetables to my garden. Our city garden is a work in progress, but the neighbors love it, and my green endeavors are rubbing off on the neighborhood. Just recently my husband finally installed a much-needed sprinkler system, we got a beautiful reed fence up for privacy, and the newest addition is a raised garden bed from Plow & Hearth.
The Raised Bed Has Arrived
I have wanted to get a raised garden bed for a while, but I did not know how or where to start, so I decided to try out the raised garden bed from Plow & Hearth. It arrived fast, and then the box stood there for a few days looking at me. It was windy, I was sick, and the kids….the kids could not stop bugging me about the mysterious box. The dirt place kept being closed, whenever we tried to get some cheap dirt, and …the kids continued to ask…when, when, when?


Three days ago, my four-year-old and I went outside to set up the raised garden bed, and I expected to use tools and follow complicated instructions. I was completely wrong! In a few minutes, we had the garden bed set up and ready, no tools necessary, just a few clicks that my four-year-old could do by himself.
The contents of the box
The corners easily connect – no tools needed.
The raised garden bed stood empty for a day or so until yesterday, when we finally caught the dirt place during it's irregular opening hours.
When my boys got home from school, we all started digging, our neighbor came outside, and all of a sudden the energy was high. Everyone was eager to expand our gardening efforts and so with a lot of team work, we had the area prepared and ready in no time.




My two oldest boys helped each other add the new soil to the raised garden bed, and our neighbor gave instructions.
We moved several of our tomato plants into the garden bed, a couple of the mature pepper plants, a few sprouting garlic cloves, and some of the new habanero pepper seedlings. We also added a couple of potatoes that had sprouted, and everyone was very proud of the new addition to our small city garden. Now we are just awaiting harvest time.


I love the Raised Garden Bed from Plow & Hearth because:
It is quick and easy to set up.

It can be setup without the use of tools

It creates a good great garden space for a vegetable garden.

The size is perfect, as you can reach in from all sides.

If you want to add to the garden bed, you can easily do so, and you can set it up just the way you want it to.

Each panel is 46″L x 5-1/2″H
The garden bed kit use solid resin construction that is long-lasting and maintenance free.
About Plow & Hearth:
When Plow & Hearth was founded in 1980 in Madison, Virginia, it was just a small country store. Today it is a multi-million dollar national catalog, retail, and internet company that specializes in unique products for the home, hearth, yard and garden.
Charlottesville, VA
Fairfax, VA
Madison, VA
Richmond, VA
Virginia Beach VA
Hagerstown, MD
Hunt Valley, MD
Annapolis, MD
Rockville, MD
Raleigh, NC
Buy The Raised Garden Bed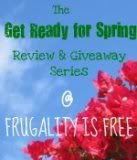 Win The Raised Garden Bed
Plow & Hearth
is generously
giving away a Raised Garden Bed kit to one of Frugality Is Free's readers as a part of the Get Ready For Spring Event.
How To Enter:
Giveaway is closed:
Winner will be announced at the Giveaway Winner tab.
This giveaway will end Monday March 7th at 10 p.m. EST
.
The giveaway is open to U.S. residents 18 years old or older. I will chose the winner via Random.org, and the winner will be notified by e-mail. Make sure to leave your email, or have your contact available on your blogger profile. The winner will have 48 hours to respond, and if there is no response another winner will be chosen.
Disclaimer: I received a complimentary Raised Garden Bed the purpose of this review and giveaway. I did not receive any monetary compensation, and the opinions expressed above have not been influenced in any way by other than my own experience with the Raised Garden Bed and Plow & Hearth.