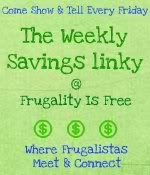 Come share your
grocery savings
posts at the weekly savings linky here at Frugality Is Free.
Frugality Is Free
is all about
frugal living,
and every week frugal shoppers from all over the country come to link up their frugal grocery trips deals.
I'm a little late posting today, as I just came home from a 9 mile walk! I started at noon, when I dropped off my four-year-old son at pre k, then I picked my oldest son up, and I took him and my 18-month-old son to the park, before we headed to Kohl's. My husband dropped my four-year old off with us at 4 p.m., and after 1 hour on a second playground we walked home! The best part is that it felt like summer in South Florida today.
This week I ran into a problem that only seasoned coupon shoppers encounter. There were no male cashiers! It might be sexist, but they are so much easier to deal with, especially the young ones, and instead of bickering over the coupons, they are impressed and want to learn.
$24.29 @ Publix
So, I looked through all the registers, and there were not any coupon friendly cashiers, so I just chose one….unfortunately she had to get almost every coupon confirmed with the manager, so it turned out to be quite a hassle….I still got what I came for, and I used the coupons I needed to use, but oh my what a difference the cashier makes. Fortunately I had two very well-behaved boys with me, and they were rewarded with Publix balloons and a big thank you for being so good.


Do you have a cashier preference?
My Grocery Savings
MF: Manufacturer's Coupon
TC: Target Coupon
PC: Publix Coupon
WD: Winn Dixie Coupon
BOGO: Buy One Get One Free
Publix Grocery Shopping Trip
NY Style pita Chip $2.69 – FREE coupon = FREE
NY Style pita Chip $2.69 – FREE coupon = FREE

Vlasic Pickles
(Rain Check) on BOGO sale @ 2 for 2.89
– (2 x $0.50 MF) = $1.89
($0.95 each)
10 x Morningstar Burgers
on BOGO sale @ 2 for $3.99 = $19.95
– (10 x $0.75) = $12.45
($1.25 each)
4 x V8 Splash
on BOGO sale @ 2 for $3.39 = $6.78
($1.70 each)
2 x French's mustard on BOGO sale @ 2 for $1.98
– (2 x $0.55) = $0.88 ($0.44 each)


4 x Kraft BBQ sauce on BOGO sale @ 2 for $1.65 = $3.30
– (2 x $1 MF) = $1.30 ($0.35 each)


4 x Sun Drop soda on BOGO sale @ 2 for $1.79
– (2 x BOGO coupons) = FREE


Publix sandwich buns $1.99


– $1 Publix coupon



Total spent @ Publix $24.29
Total Saved @ Publix $57.15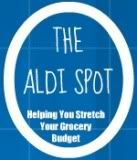 Check out the Aldi spot for a Price Comparison List between Aldi, Target, Publix and Walmart.
You can also find lots of great printable coupons at my coupon database My Best Printable Coupons.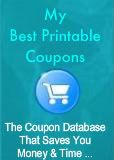 ***************************************************
The
Top Frugalista

Of The
Week Is
Just Call Me Cheap

is written by Erica, a stay-at-home mom of two, who
is always looking for a great deal. Erica is a fabulous shopper, just look at her Shaw's shopping trip. I'm amazed at how much food, and what a variety she managed to get for $8.
*********************************************************************
Each week I will be featuring a Top Frugalista here at Frugality Is Free, and the Top Frugalista will win a free ad space at Frugality Is Free for a week.
'

Top Frugalista Rules
1. Add the Weekly Savings Linky button to your post
1. Add the Weekly Savings Linky post to your sidebar.
2. Tweet about the Weekly Savings Linky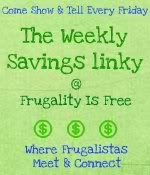 Thank you I Heart Publix for helping me stretch my dollar at Publix.
I would love to hear how you did on your savings this week?
Please list name of blog, savings, name of store below.