This week seems like it has flown by, but as always I managed to get a lot of shopping done. I found lots of socks for the family, and I even got luxury items such as Sabra Hummus, Nasoya Tofu and strawberries. All in all a great shopping week, and I am now breathing slowly again after shopping with three boys in tow.
CVS: Spent $0.67 Saved $8.70
Total spent this week on groceries and non-groceries $55.17 for a family of five
Total saved this week $133.28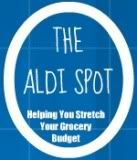 Check out the Aldi spot for a Price Comparison List between Aldi, Target, Publix and Walmart.
You can also find lots of great printable coupons at my coupon database My Best Printable Coupons.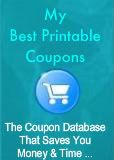 ***************************************************
The
Top Frugalista

Of The
Week Is
(For the second time in a row)
Just Call Me Cheap

is written by Erica, a stay-at-home mom of two, who
is always looking for a great deal. Erica is a fabulous shopper, just look at her recent Shaw's shopping trip. I'm amazed at how much food, and what a variety she managed to get for $8.
Erica is sick today, so I hope you will all stop by with some well wishes. I know, we are all aware how tough it is to be sick, when you are a mom.
I hope you feel better soon Erica!
*********************************************************************
Each week I will be featuring a Top Frugalista here at Frugality Is Free, and the Top Frugalista will win a free ad space at Frugality Is Free for a week.
'

Top Frugalista Rules
1. Add the Weekly Savings Linky button to your post
1. Add the Weekly Savings Linky post to your sidebar.
2. Tweet about the Weekly Savings Linky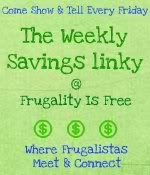 I would love to hear how you did on your savings this week?
Please list name of blog, savings, name of store below.