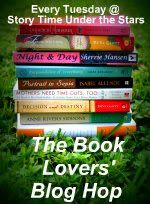 Welcome to the Book Lovers' Blog Hop at Story Time Under The Stars and Frugality Is Free. Come share your book reviews and connect with other book lovers.
Most book lovers and book reviewers put a lot of time and effort into their book reviews, but quite often it gets few, if any, comments unless there is a giveaway attached. Don't get me wrong, I love book giveaways, but it would be nice to actually have someone read and comment on the book reviews that book lovers put so much time and effort into.
************************************************************************


Create With Joy is written by The Paper Princess, a highly skilled and extremely crafty blogger, who is always able to inspire and impress. Create With Joy celebrates creativity, and it will not take visitors long to realize that The Paper Princess has a great amount of passion for what she does.
Congratulations Create With Joy!
You have won a free week ad space at Story Time Under the Stars….and as an extra bonus at Frugality Is Free as well.

************************************************************************

The Rules:
2. Link up a book review below (ONE review per blog). Please link up to the review itself and not your main page.
3. Visit and comment on the review linked up before you.
5. Follow and comment on as many blogs and book reviews that you would like to.
6. Follow and comment back – to make this Book Lovers' Blog Hop a success, comments are essential!
Book Lover of The Week and Ad Space Giveaway
If you would like your blog to be featured next week and be entered to win a 125 x 125 ad space for a week at Story Time Under The Stars and Frugality Is Free, you can enter below. Each method counts as one entry!
Blog about the Book Lovers' Blog hop
Add the Book Lovers' Blog Hop Button to your sidebar or
Put the Book Lovers' Blog Hop button in the book review that you link up
Tweet about the Book Lovers' Blog Hop
Example tweet: I linked up my book review at the Book Lovers' Blog Hop. http://tiny.cc/2hu21 Come join me & link up your book review too!
Please comment below to let me know, if you are participating in the Book Lover's Blog Hop bonus feature and ad space giveaway.
Please post blog name, book name and link up your review url below (not your main blog url)