CVS Batteries with Bonus from CVS
My middle son turned five this week, and somehow we have already run through our stock of AA batteries. I almost panicked when I discovered the low supply, as I would hate to have to buy batteries at full price, and our rechargeable batteries were being used somewhere already.
I checked at Target and Publix, but I did not find anything at a decent price, so instead I went to CVS, as I had $1 Extra Bucks already.
I did two transaction, and at the first transaction I lucked out, when a $1 Extra Buck printed out for using the green bag tag…love those.


1st Transaction
1 Crest Toothpaste $3.29
2 x Chef Boyardee on BOGO sale at for $1.49
– $1.49 Free Chef Boyardee coupon
– $1 Crest coupon
– $1 Extra Buck



Total out of pocket after tax $1.50
Saved $5.57
Received $3.29 Extra Bucks back for the Crest
Received $1 Extra Buck back for using the green bag tag


2nd Transaction
1 10 pack AA CVS batteries on sale at $3.99
– $3.29 Extra Bucks from first transaction
Total out of pocket after tax $0.94
Saved $6.09
Total Spent at CVS $2.44
Total Saved at CVS $12.56
$1 Extra Buck back
So instead of paying $5 for a pack of batteries at Target or Publix, I paid $2.44 at CVS and received Crest toothpaste and Chef Boyardee as a bonus.
Thank you to Cheryl from Simply CVS for helping me save at CVS with her great CVS shopping tips.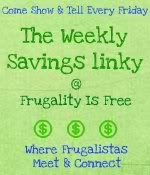 I would love to hear about your savings, you can link up below, and if you want to win a free week adspace here at Frugality Is Free, make sure to get your entries in at the Weekly Savings Linky post.