I made a very quick trip to Publix yesterday, and I literally had to run there. My husband's car is at the shop until Saturday, and we were out of fruit, plus the Gorton's deal was running out….I had to get there yesterday. On top of that it was supposed to rain today (which it did), so I knew that yesterday was my only chance to get some shopping done before Saturday night.
So, my oldest son and I ran….almost all the way there and back (almost two miles each way). We went to Target to get some OJ, pick up a birthday present for a weekend birthday party, and then we made a quick run to Publix before we turned around to run/walk home again before my middle son got home from school.
The deals were worth it though, and Gorton's Seafood sponsored dinner for my husband and the boys.

My Publix Grocery Savings
6 x Gorton Sea Foods on BOGO sale @ 2 for $7.49 = $22.47
2 x BOCA veggie burgers on BOGO sale @ 2 for $3.45
– ($2 Target Coupon and $1 MF coupon) = $0.45 ($0.23 each)
1.65 lb grapes on sale @ $1.69/lb = $2.79 – $1 = $1.79
2 x strawberries on sale at $1.66 each = $ 3.32
– (2 x $1 Publix Coupons) = $1.32 ($0.66 each)
Publix sandwich buns $1.99
Publix strawberry jam $2.69
Total out of pocket $8.26
Total saved $60.68
I'm giving away 10 x Gorton's Free Product Coupons, enter below: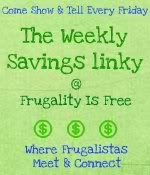 I would love to hear how you did on your savings – you can link up below.