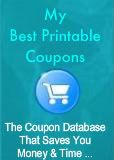 In an effort to keep
Frugality Is Free
focused on frugality, frugal living, giveaways, reviews and blog hops, I have created a coupon database –
My Best Printable Coupons
, where I list my favorite coupons. You can usually see the most recent coupon at the upper right-hand corner here at Frugality Is Free.
Today the featured coupon is a very hot $2 Heinz Ketchup coupon – print this one now, as it will go fast!
At My Best Printable Coupons I simply share my favorite coupons with my readers, sometimes I will post a great deal to use the coupon with, and if there is an ad printing afterward, I will make sure to let you know, so that you can cancel printing after you get your coupon.
At My Best Printable Coupons you can browse coupons by brand or category, and you can check the hot category for the latest
hot coupons
.
You can also find hot Publix Deals, Target Deals and CVS deals, and much much more.
If you would like to get coupon alerts, when a hot coupon comes out there are several ways to do so.