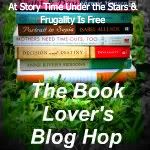 It is the second week of The Book Lovers' Blog Hop, and I would like to invite everyone to link up your book reviews.
I have made a few changes that hopefully will make the book review hop more attractive for book reviewers, and I hope we will see more book reviews linked up because of it.
The changes:
The Book Lovers' Blog Hop will be an ongoing book review hop, where you can link up your book reviews all week.
The Book Lovers' Blog Hop linky will be renewed every Monday.
Each blogger can link up two reviews per week (old or new)
************************************************************************
I met Marsha online many years ago at a place called Gather, and while Marsha is still a big presence at Gather, her blog Marsha's Spot is also blossoming. Marsha is a super saver, and she certainly understands how to stretch her money at Walgreen's. She is always very helpful and she is an amazing crafter, who can make almost anything out of a plastic bag. At Marsha's Spot, Marsha also writes reviews including some great book reviews.
Congratulations Marsha's Spot, you have won a free week's ad space at Frugality Is Free and Story Time Under the Stars.
************************************************************************

The Rules:
Link up a book review old or new below (Up to two reviews per blog per week). Please link up to the review itself and not your main page.
Visit and comment on as many book reviews on the list as you wish.
To make this Book Lovers' Blog Hop a success, comments are essential!
Please help me spread the word to get more participants – a tweet or facebook post will be highly appreciated. (Optional – Not Mandatory)
BONUS
Book Lover of The Week and Ad Space Giveaway
If you would like your blog to be featured next week and be entered to win a 125 x 125 ad space for a week at Story Time Under The Stars and Frugality Is Free, you can enter below. Each method counts as one entry!
Blog about the Book Lovers' Blog hop
Add the Book Lovers' Blog Hop Button to your sidebar or
Put the Book Lovers' Blog Hop button in the book review that you link up
Tweet about the Book Lovers' Blog Hop
Facebook about the Book Lovers' Blog Hop
Example tweet: I linked up my book review at the Book Lovers' Blog Hop. http://tinyurl.com/4c5kxlm Come join me & link up your book review too!
Please comment below to let me know, if you are participating in the Book Lover's Blog Hop bonus feature and ad space giveaway.
Please post blog name, book name and link up your review url below (not your main blog url)