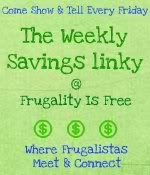 I am way behind with my shopping this week, actually I am way behind with everything. My youngest son's stomach virus seemed to return with a vengeance, and it got so bad that I had to take him to the doctor.


This weekend my dad and his girlfriend is coming to visit from Europe, and it is a visit we have been looking forward to for months….and of course with the visit comes extra chores, which my boys are doing their best helping me with.


I went way over budget this week, but that is okay, because I had added a little extra to the budget, since we were having visitors. At least both my freezer and fridge are booming to maximum capacity, and we have so much bread products that I do not know where to fit it. A pantry surely would be nice to have…. I did find some great bargains this week, including $0.25 Avocados at Aldi, $0.06 Birds Eye Steamfresh frozen vegetables at Publix and at CVS I only paid taxes.

I also went clothes shopping at both Kohl's and JCPenney, so the debit card has been working hard this week.
Check out my: