Shopping with three boys between the ages of 8 and 1 just does not tempt me, so while I have all three boys home every day, I think I will have to cut the amount of shopping trips I make. It is a good thing that I raised my grocery budget $10 for the summer, because this week I definitely did not make it between $50 and $60 dollars for the week.I knew I had to make it to Target though, because $0.19 for my middle son's favorite hot dogs was not a sale I was going to pass on. I spent $4.98 at Publix on Nutrigrain cereal bars, but I submitted for a $5 gas card with the Kellogg's rebate, so I hope it will come before we go on our Florida road trip. This was the first time that my boys tried these, and after returning home from the store I realized I should have bought four more boxes.
You can see the details of my shopping trips by clicking on the titles or the images.
I Saved $13.35 at Aldi


See my:
I spent $29.24 at Publix
I Saved $84.52 at Publix
Groceries for a family of 5:
Total spent this week $68.23
Total saved this week $112.50
This week's clothing and extra purchases:
Total spent this week $0
Total saved this week $0
Total Out of Pocket This week:
Total spent this week $68.23
Total saved this week $112.50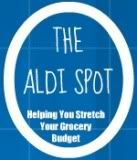 You can also find lots of great printable coupons at my coupon database My Best Printable Coupons.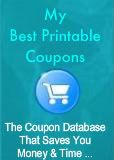 You can also win free product coupons and groceries here at Frugality Is Free.


(2 winners Win 5 x P&G 7/3 Coupon Inserts) 7/8
Win a Fiber One Cereal Prize Pack 7/11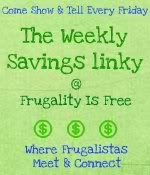 For more places to link up your
grocery savings
check out the
Weekly Savings Linky Collection
, You can post your
frugal living
posts at the
Fantastic Frugal Fridays Linky
and if you have a giveaway on your blog don't forget to enter it at the
Fantastic Friday Giveaway Linky
.
I would love to hear how you did on your savings this week?
Am I the only one, who plan on not to spend, but then ends up spending a whole lot?
Please list name of blog, savings, name of store below.