I almost had to skip CVS shopping today, as time was running out for me, but CVS was right next to Publix, and I had no desire to walk the two miles there and back again this week. So, I did some very quick CVS shopping, and I got a couple of freebies out of it. It always amazes me what I can get free at CVS, with a little planning and a little help from Simply CVS my out of pocket expenses are always very low. I do not have many CVS Extra Bucks at the moment, but I have been able to recycle the few CVS bucks I have for a while now. I was excited to be able to add two bags of Starburst to my oldest son's goodie bag pile, as we are in the midst of planning his birthday party.




2 Starburst at $3 each = $6 – BOGO Coupon from CVS Scanner = $3 – (2 x $1 Starburst Coupons) = $1


4 x Dawn soaps on sale at $0.99 each = $3.96 – (4 x $0.75 Dawn Coupons 8/28 P&G) = 0.96 ($0.24 each)


St. Joseph Aspirin on sale @ $2 – $1 St. Joseph's Coupon SS 8/7 – $1


Reinventing Beauty Magazine $0.99 – FREE coupon from CVS Scanner = FREE




Subtotal $2.96
Tax $0.66


– $3 Extra Bucks
Total out of pocket $0.62
$2 CVS Extra Bucks Back (From St. Joseph)
$1 CVS Extra Buck Back (From CVS Green Bag Tag)
Don't forget that you can win free product coupons and groceries here at Frugality Is Free.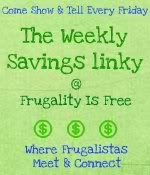 I would love to see how you did on your CVS shopping this week.
Come link up at the Weekly Savings Linky at Frugality Is Free every Friday!