I love
Recyclebank
for many reasons, but the biggest reason is the awesome Publix coupons that can be found at
Recyclebank
. My local Publix stores also accepts Doris coupons as competitor coupons, so between the
Publix coupons
and the Doris coupons I have a dollar off coupon for every grocery trip. The Publix coupons at Recyclebank varies depending on your area, and if you do not have a Publix store in your area, you will likely find dollar off coupons for other grocery stores in your area.
When you order Publix coupons at Recyclebank, you pay with your recyclebank points, and you print the coupon at home. You can get two coupons for the one point fee, by making sure to click the arrow back on your computer after the first coupon has printed. You can only purchase the Publix coupon once per month, so getting two for one is the perfect deal.
If you are new to Recyclebank, or if you are interested in signing up, make sure to check out my
Recyclebank Guide
to get the most out of your Recyclebank account.
When you shop at Publix, make sure to hand your $3 off $30 coupon first(or whatever other dollar off coupon you have), and then hand the rest of your coupons. If your cashier prefers to get all of the coupons up front, ask if she can scan the $3 off $30 coupon first.
Take a look at my Publix shopping trip with Recyclebank coupons, this is why I do not shop much at the dollar store. Look at the per item prices…
Coupon Lingo
SS = Smart Source coupon insert

TI = Target coupon insert
Publix Shopping
Tropicana Fruit Punch on sale at $1.34 – $1 Publix Grocery Coupon (From Publix calendar)= $0.34
4 x Weber seasonings on sale at $1.50 each = $6 – (4 x $1 Weber Coupon SS 6/26) = $2 ($0.50 each)
8 x Skippy Peanut Butter on BOGO sale at 2 for $2.95 = $11.80 – (4 x $1/2 Skippy Printable Coupons, 1 x $1 Publix Grocery Coupon (from Publix calendar) and 2 x $0.75 Skippy Target Coupons 8/7 TI) = $5.30 ($0.66 each)
2 x Lawry's Marinades on BOGO sale at 2 for $2.99 – (2 x $0.75 Lawry's Coupons (Requested from Company = $1.49 ($0.75 each)
3 x
Coca Cola 12 packs
on Sale a Buy 2 Get 1 Free @ $4.99 each = $9.98 – ($1 Coca Cola Coupon from
Recyclebank
and $1 Publix Grocery Coupon (from Publix calendar) = $7.98 (
$2.66 each
)
Taxes $0.68
Total out of pocket $14.79
Total saved $38.43
If you are wondering where my produce and meat is, make sure to check out my latest Aldi grocery tirp.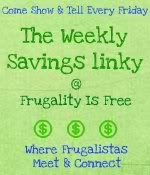 I would love to see how you did on your grocery shopping this week. Come link up at the Weekly Savings Linky at Frugality Is Free.
What kind of coupons do you use from Recyclebank?