I made a quick trip to Target this morning to pick up a few of their great deals before they were out. I had a few items left on the boys' back-to-school shopping list, but I knew that the items would go on sale eventually, and today a few of the school supplies did go on sale at a great price for me to stock up for the entire year.
Target Back-To-School Shopping
Highlighter 3 pk $1
Sharpie permanent markers 2 pk $1 – $1 Target Coupon (No longer available) = FREE
6 x Pencil Sharpeners on sale at $0.20 each = $1.20
6 x Erasers 2 pk pm sale at $0.20 each = $1.20
2 x Index cards ruled on sale at $0.45 each – $90
2 x Index cards blank on sale at $0.45 each – $90
– $0.05 Reusable bag discount
Total out of pocket $5.45
Total saved $10.52
Find out how you can easily earn Target gift cards online.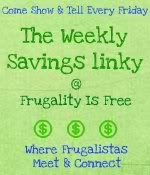 I would love to see how you did on your grocery shopping this week. Come link up at the Weekly Savings Linky at Frugality Is Free.
Did you finish back-to-school shopping yet?