This week I had a few items to add to my kids' back-to-school bags, and I also added a package of boxer shorts, as they were finally at a price that could fit my budget. By using the Target price matching with Walmart prices and Kmart prices, I was able to make a sale for myself as well. Kmart had the Crayola for $24 cents compared to Targets $0.40 each. Walmart had Welchs' grape jelly on sale at $1.68, while Target had it at $1.99. I only saved $1.90 from the Target price matching with Walmart and Kmart, but any savings is still savings in my book.
Target Price Matching
When price matching at Target, bring in the current ad that you wish to price match with . Bring products and the ad to the Target customer service, and they will adjust the price for you. The product that you buy has to be completely identical to the one shown in the ad that you are price matching with. Target will not price match BOGO deals.
My Target Shopping
Hanes Boxer shorts 4 pack on sale at $8.50 – $1 Target Hanes Coupon = $7.50
2 x Welchs' Grape Jelly – Target Price Matching with Walmart @ $1.68 each = $3.36
RE Shower Curtain Liner at $2.34 – $1 Target Coupon = $1.34
8 x Crayola Crayons 24 ct – Target Price Matching with Kmart @ $0.24 each = $1.92
2 x Elmer's Gluesticks 6 ct @ $1 each = $2
3 x Poly Pocket Folders @ $0.50 = $1.50
– $0.10 in Target Reusable Bag Discount
Taxes $1.21

Total Out Of Pocket $18.73
Total Saved $9.90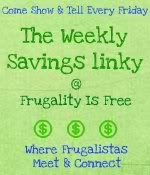 I would love to see how you did on your grocery shopping this week. Come link up at the Weekly Savings Linky at Frugality Is Free.