Yesterday I made a quick trip to Whole Foods, as we were out of two items. Whole Wheat Flour and long-lasting soy milk. The soy milk is used for when we go on vacation, and we keep a stock in our hurricane supply as well. I did not use a single coupon, and there were no sale either….
I did get both the whole wheat flour and the soy milk cheaper than I would have, if I had bought them at any of my regular stores, so despite lack of coupons and sale, I still saved money because of the Whole Foods prices.
2 x Whole Wheat Flour @ $2.99
8 x 375 Soy milk @ $1.79
– 10 percent discount
Total out of pocket $18.87
Total saved $1.43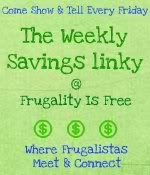 I would love to see how you did on your grocery shopping this week. Come link up at the Weekly Savings Linky at Frugality Is Free.