Whenever you buy 6 jumbo bags of Huggies diapers at CVS you get the 7th diaper free. In the last couple of weeks I have been able to get some awesome diaper deals at CVS, where I got the price per diaper bag down to less than $2 after coupons and extra bucks, so today I got a nice surprise at CVS. I received a free diaper coupon on my receipt – it was good for a free jumbo bag of huggies diapers.
I knew nothing would be in stock, because I did not get to CVS on Monday, but I had planned for it, so I was not too disappointed. I got rain checks for the heat wrap and the Soft Soap Body wash, so I can use the rain checks to plan my next CVS shopping trip, as I have $10 CVS Extra Bucks from last week.
Ironically, I ended up paying more than I regular do at CVS, simply because I had the two free coupons and had to pay taxes (with no way of using manufacturer coupons to get the tax down).
My Free CVS Shopping Trip:
Free Huggies Diapers
2 x Pantene Shampoo and Conditoner @ $3.49 each – 2 x Free Pantene Coupons (From Facebook mailer offer NLA) = Free ($1 ECB)
Taxes $1.14
Total out of pocket $1.14
Total saved $21.97
$1 CVS Extra Bucks Back
For more great
CVS Deals
make sure to check out Simply CVS!.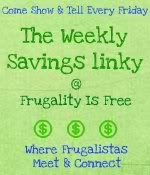 I would love to see how you did on your grocery shopping this week. Come link up at the Weekly Savings Linky at Frugality Is Free every Friday!
If you would rather shop online, or need diapers today make sure to check out the previous
diaper deals
that I have shared here at Frugality Is Free.