Last week I took a survey from the CVS Advisory Panel, and in return I got 5 CVS Extra Bucks. I was hoping to get some candy for my son's birthday party, as we still needed a little extra for the goody bags. When I discovered that CVS has water balloons and balloons on CVS summer clearance, I was very excited because it was just what I needed. I had only been able to buy one pack of water balloons at the dollar store, and I was preparing myself on having to pay $3 for another pack at a regular store. The water balloons at CVS was on 75 percent off clearance at $0.99.
To get the smallest out of pocket expense, I calculated how much I would have to spend after coupons, and then I used the CVS Extra Bucks for that amount plus the taxes. It turned out that CVS owed me $0.15, so I was asked to pick another item, and I added another bag of rocket balloons.
I ended up paying taxes only, and the coupons even ate up some of the taxes as well. I could not have done this shopping trip, if it was not for the tips from Cheryl at Simply CVS. Especially her
CVS tax tip
helps me out again and again.
IP: Internet Printable
NLA: No longer available
MF: Manufacturer coupon
Check out my Free at CVS shopping trip
4 x Skintimate Shave Cream on sale at $1.99 each = $7.96 – (4 x $1 CVS Skintimate coupon and 4 x $1.50 IP MF Skintimate coupon NLA) = FREE ($2.04 overage)
2 x Orbit Gum on BOGO sale at 2 for $1.37 – ($1 CVS Orbit Coupon from scanner) = $0.37 ($0.19 each)
2 x Starburst on sale at 2 for $6 – (Starburst BOGO coupon -$2.51) = $3.49 ($1.75 each)
2 x Hershey's Air Delight Bars @ $0.99 = $1.98 – (BOGO Hershey's Air Delight Coupon) $0.99 ($0.49 each) (0.99 ECB Back)
Dove chocolate bra
$0.79 – FREE coupon =
FREE
1 Carefree Pantyliner @ $0.99 – $0.50 MF = $0.49 ($0.99 Extra Bucks Back)

2 x Rocket balloons on clearance at CVS at $0.75 each = $1.50
2 x Water balloons on clearance at CVS at $0.99 each = $1.98
– $5 CVS Extra Bucks from CVS Advisory Panel survey
– $2 CVS Extra bucks from a previous purchase
Subtotal – $0.41
Taxes $1.06
Total out of pocket $0.65
1.99 CVS Extra Buck Back
Total saved $46.39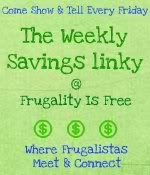 I would love to see how you did on your grocery shopping this week. Come link up at the Weekly Savings Linky at Frugality Is Free every Friday!